Top Indoor Soccer Tournaments in USA
Are you ready to get some thrilling and inspiring details about the top Indoor Soccer Tournaments, let's jump into this write-up.
Indoor soccer is basically a sub-sport of soccer there are many indoor soccer tournaments held in different parts of the world, especially across the US. indoor soccer is being played and watched passionately all over the world.
I am a fan of indoor soccer and a semi-pro player who played at the local level in my school, college, and different indoor soccer leagues but hasn't made it to the optimum level due to ACL but my love for the game is still the same the reason I always want to contribute towards this incredible sport.
Indoor Soccer Game
Indoor soccer is played on a small court compared to outdoor soccer which needs 100-120 yards of ground and 11 players on each side indoor soccer is played ideally with 5 players including a goalkeeper while informally you can also play it as a 7-a-side. Indoor soccer rules can be molded according to your needs.
Indoor soccer is fast-paced and gives no time to rest because the ball remains in play most of the time due to high glass walls. Walls act as a player on the sides and players can't even blink an eye otherwise it can cost their team the whole tournament and they'll be out of the tournament.
Indoor soccer is getting popular with an unmatched pace due to its variations that you can mold the game according to the number of players and space on the field. Due to excitement and intense competition, it has gained popularity which results in a number of tournaments for the fans and players to enjoy.
If you want to play indoor soccer tournaments but are confused about which best indoor soccer shoe you should buy then check out my best indoor soccer shoes reviewed in very detail you can see the top 3 best shoes for indoor soccer.
List of Indoor Soccer Tournaments
World Peace Indoor Soccer Tournament
November 20-24, 2023
Groenlo, Netherlands
Teams worldwide
National Indoor Soccer Championship
February 2024
U8-U19 Boys & Girls
Local teams
Sofive Tournaments
Year-round
5v5 & Futsal
4 guaranteed games
Armonk Indoor Tournaments
Winter & Summer
6v6, 3 games + finals
U8-HS Boys & Girls
Harrisburg Heat Tournaments
December & March
3 games + finals
U9-U14 Boys & Girls
EMSA Polar Cup
December 27-30, 2023
U9-U19 Tier 1-7
Edmonton, AB
Different Indoor Soccer Tournaments
Various tournaments are held in different parts of the world, particularly in the US. Tournaments are for different age groups from under 7 to under 18 after that there are professional-level indoor soccer tournaments held under the banner major arena soccer league.
You can access the latest indoor soccer tournaments from here and then register your teams. I have given information details so contact them and get your teams registered. Also if you want to market your sports event do let me know.
A list of Indoor Soccer Tournaments already held is as follows.
Shamrock Cup
Ramapo Valley Soccer Cup
President Cup Tournament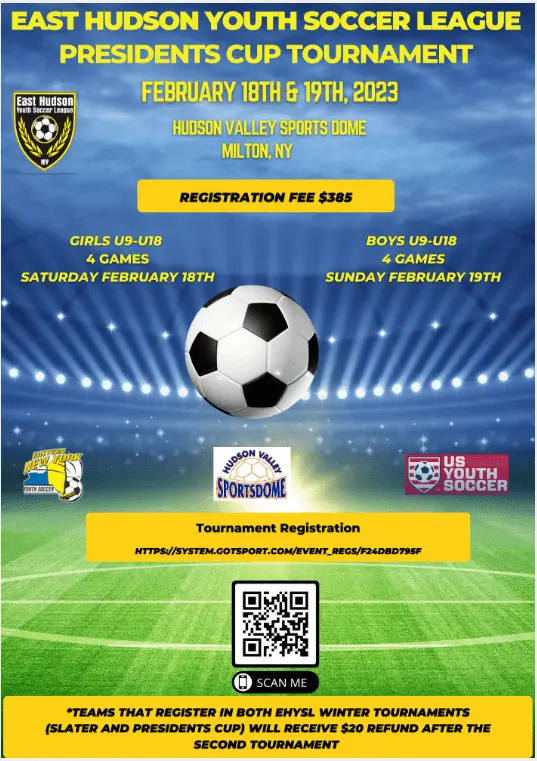 Orange Cup
New Paltz Championship Cup by Hudson Valley Sports Dome, Newyork, NY
LaGrange Soccer Cup
KASL Kingston FC Tournament
Hudson Valley Sports Dome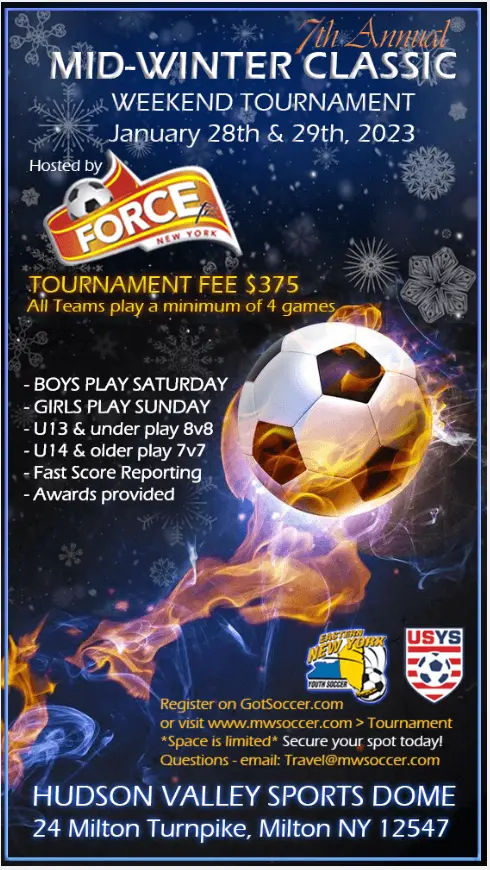 East Hudson Youth Soccer League
Columbus Indoor Soccer Challenge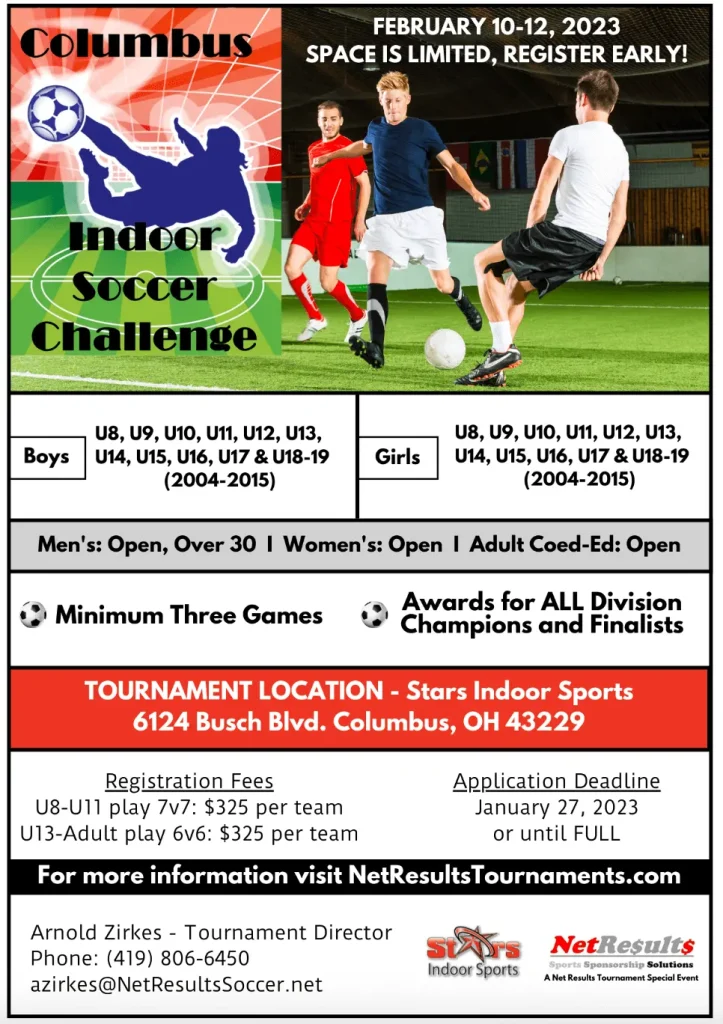 Magic City Legends 3v3 Soccer Tournament
Magic City Legends Tournament
Wappingers United
Premier Indoor Tournament Series
The Players' Perspective: What it's Like to Play in an Indoor Soccer Tournament
For a player playing an indoor soccer tournament, his main aim is to entertain his fans and to make way towards professional indoor soccer and these indoor soccer tournaments are filter checks through which a player has to pass to play at a professional level.
The indoor soccer tournament format is very flexible and varies according to the number of teams being registered in a specific tournament while the pitch size also varies according to the age group and requirements of the tournament.
Indoor soccer is an intense game with an electric environment all around so, every player wants to give their 100% to captivate the audience and make his fans passionate about indoor soccer. For this, he has to win hard-fought battles on the field
Utmost dedication brings thrill to the game because while playing a player is being pumped by his fans and this is the asset of the best indoor soccer player which he/she can never forget. It's a source of satisfaction for a player to be a fan favorite.
The Fans' Experience: What it's Like to Watch an Indoor Soccer Tournament
Fans play an important role in making a player and they make a player strong mentally which later makes a player more skillful after hard work dedication, and proper indoor soccer drills. Fans come to see their favorite players and teams in an indoor soccer tournament and to cheer them up.
Being a player aims to be a fan favorite and to be a key player of a team to make the team win matches in highly competitive leagues and tournaments and to make a name. Watching live in the arena is the best feeling because of the compactness of the arena fan feels connected to their ideals.
The excitement that the crowd brings is unimaginable to this sport because players are highly motivated to give their best for their team and make the crowd jump on their feet so that they feel more connected which as a result makes a bonded community of sports lovers.
Smaller venues make fans watch the show keenly because the view is very clear and you know every move a player makes on and off the ball means it doesn't look crowded and you can relate to your players and position yourself in their shoes.
In today's time, you can also watch your favorite players live on your screens because technology has ended gaps so you can also watch and support your team virtually. Through technology, we also get updated on the tournament results in real-time.
Fans are without a doubt the most important aspect of indoor soccer tournaments because fans bring emotions and emotions bring joy without fans you can never bring quality and attachment to the game.
The Future of Indoor Soccer Tournaments
Indoor soccer is getting more and more popular due to countless tournaments being conducted by different stakeholders. These tournaments are bridges for players to be selected for professional teams and compete in competitions at the pro level.
Indoor soccer tournaments are easily managed because they take fewer resources as compared to soccer which needs a large and more budget to organize while indoor soccer tournament is easily managed on less budget and in a compact environment means less space is needed.
Indoor soccer tournaments are played in a closed arena which means they aren't impacted by the weather conditions so indoor soccer tournaments can be held throughout the year while outdoor sports weather is considered on priority.
Indoor soccer tournaments are also seen virtually. Fans watching live on their screens are more than those watching live in the arena this is ever-growing due to technology which is diversifying every sport and bringing joy to spectators in their drawing rooms.
Conclusion of Indoor Soccer Tournaments
After experiencing and playing for some top teams in the country I concluded that overall playing indoor soccer is a thrilling experience for both audience and players and they're both connected firmly.
It's good for both players and fans as players enjoy themselves on the field by entertaining the crowd while fans cheer up their favorite teams. The excitement and energy are matchless in the arena.
Due to popularity, we will see many top-quality tournaments will be held in the country which will filter out the talent that's needed for professional indoor soccer. This will make the professional league more popular and entertaining due to the induction of new players.
This is an ever-growing process and these tournaments are like opportunities for those who are hungry to showcase their skills. This trend must grow and should uplift the talent that's in the country to have deserved recognition.
To find a tournament you can visit the US Youth Soccer Tournament Database.
FAQs of Indoor Soccer Tournament