[Top 15] Best Comfortable Indoor Soccer Shoes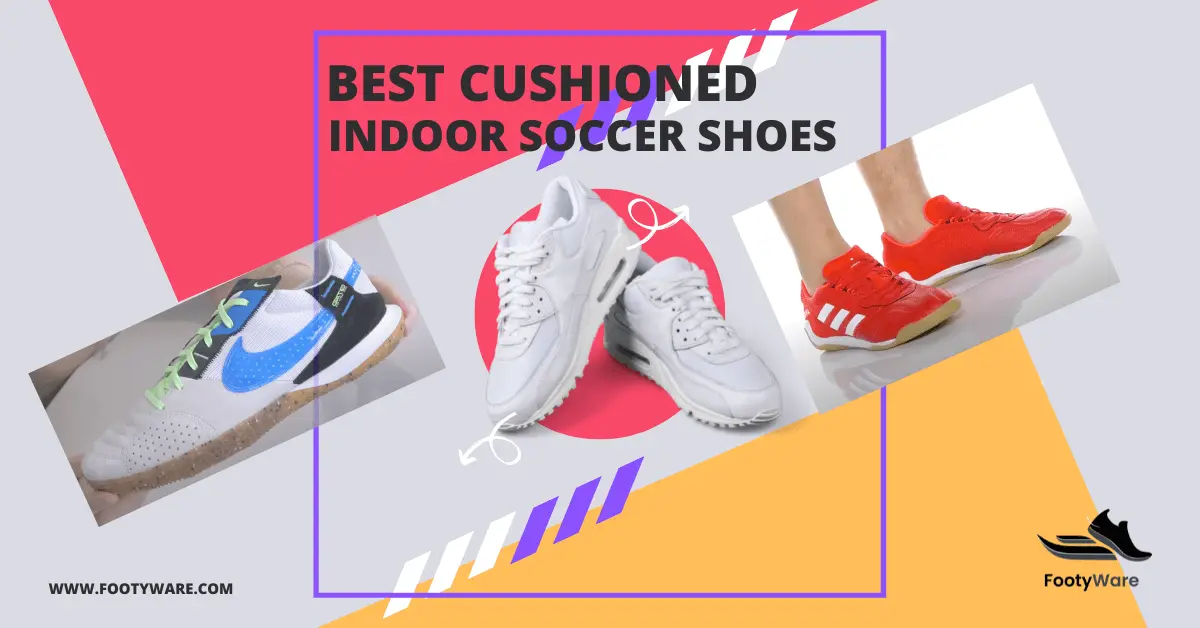 Is Your Indoor Soccer Shoe Hurting Your Feet? Causing pain and Blisters!!!
You can have the Cushioned One
Playing on hard indoor courts demands ultra-cushioned shoes that absorb shock and deliver joyful comfort. I learned the hard way after too many premature exits from twisted ankles to sore arches and even cramps.
I am on a mission to save your feet and take your indoor game to the next level so I am sharing some top-cushioned shoes that're being tested by me in indoor soccer competitive matches But cushioning alone doesn't give you the best – The cushioned indoor soccer shoes also provide crucial stability, traction, and support.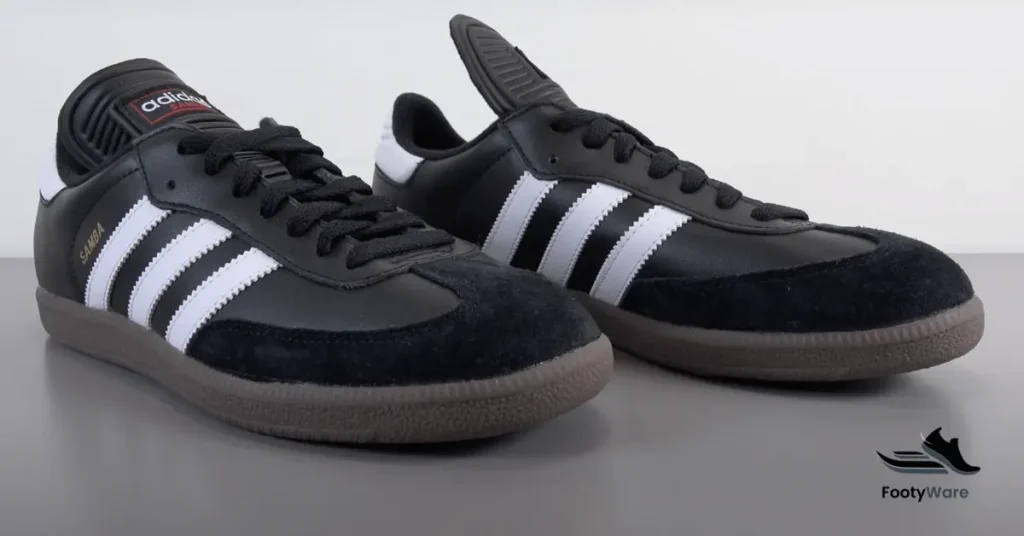 After over a decade of competing in indoor soccer, I've revealed the secret for choosing shoes cushioned shoes that check every box. Now I'm sharing my expertise so that you can avoid foot pain and blisters and gain a competitive edge over your competitors.
Keep one thing in your mind be very sure about your feet size
Don't gamble with substandard footwear for another game. Below I have revealed the top 3 most cushioned indoor soccer shoes that provide complete comfort and next-level indoor soccer performance on hard, shiny, and wooden or concrete floors.
Treat your feet to the ultimate in cushy protection and traction with my top picks perfected for indoor domination. Your feet will thank you, and your opponents won't know what hit them in the blink of an eye.
List Of Best Cushioned Shoes for Indoor Soccer
Following is the list of best cushioned indoor soccer shoes reviewed by me;
1. Adidas Men's Samba Classic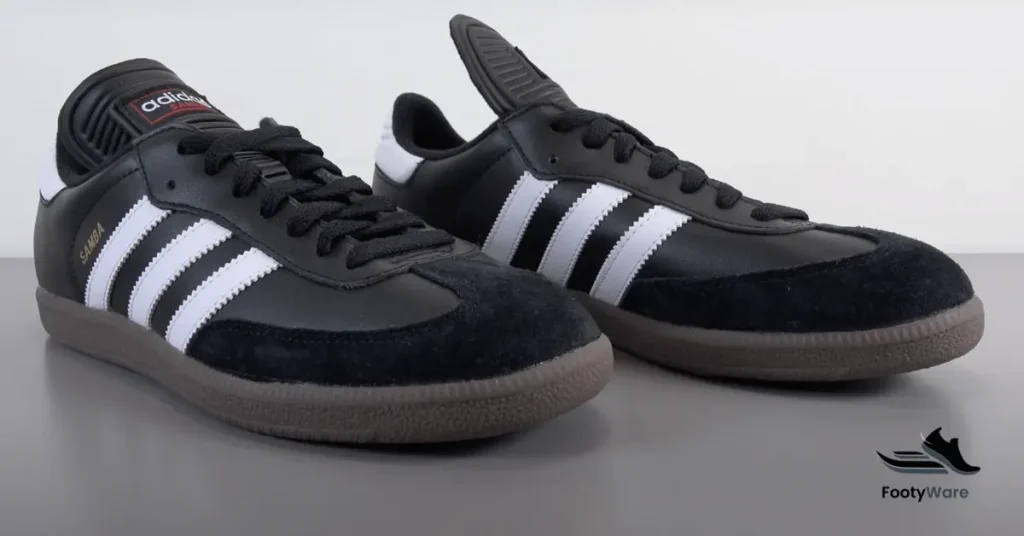 Adidas Samba Classic is a legendary shoe that dominated the category of indoor soccer shoes for more than a decade now, known for its comfortability and is the GAOT of indoor soccer shoes for kids as well as adults because they are more than perfect in most its features and can be called the classiest shoe in the category. It's also one of the most reliable shoes on the list.
Using them in real games feels the best because they provide a perfect grip on shiny, dry surfaces, especially on wooden surfaces. Its rubber outsole provides the best traction one can imagine on flat surfaces.
This is one of the cheapest for the value it provides to the users, cushioning provides support to ankles and absorbs stress quite effortlessly. Shoes look classy due to their style and appearance. You can wear them in the office and also for outdoor walks.
A combination of leather and suede makes it look more elegant for office use and you can use them for long office hours because they won't irritate you while you are wearing them in the office. This shoe can also be used for camping because of its durability.
For flat feet only you can remove the uncomfortable arch supports by just gently pulling the insole; it will be removed easily.
All in all these shoes are the best bang for the buck because of the unique energy that it provides after wearing them. One feels more confident because of its comfort and softness. You can experience this while playing on shiny wooden surfaces.
Comfortability level 95%
2. Diadora Men's Capitano ID
Diadora Men's Capitano ID is the least known shoe and comes from a brand that is also least known for soccer shoes because they are not good at marketing the shoe apart from that when I used them they are good-to-go shoes for those playing soccer indoors on hard and shiny surfaces. I have also had numerous walks in them (Not for long walks) and they are supportive but the surface must be flat like a road etc.
While playing soccer indoors on flat surfaces they give too much support and provide a firm grip because of their rubber outsole. The Shoes are waterproof and you can play in them in light rain. Upon shooting the ball the contact made feels like heaven.
You can face difficulty while breaking in the shoe but after some time you will feel that this shoe is just made for you because of its leather top which shapes itself according to your feet.
Comfortability level 85%
3. Adidas Men's Nemeziz 19.4 Cushioned Indoor Boots Soccer Shoe
Adidas Men's Nemeziz 19.4 is a lightweight, well-padded, and very comfortable shoe with a very slick look that gives an advantage to dribblers to take on defenders in any situation during indoor futsal.
The shoe provides you with the best traction during real games of indoor soccer. You can feel them while shooting the ball with your outer foot. The feel is awesome because of its snug fit which supports back-and-forth movements with or without a ball.
The nemeziz is good to be used in the gym and you can also play other games like table tennis, squash, and even boxing because it wraps your feet like a sock. This shoe is going to provide you with the best grip you can imagine on flat surfaces like wooden courts.
Comfortability level 82%
4. Adidas Performance Mundial Team
Adidas Performance Mundial shoe is the second classic from Adidas, the first one is the Adidas Mens Samba Classic and now both are great in their own ways. Mundial has some great which are revealed once you use them on your own.
I have used them after sprained ankles so you can easily guess how much support and comfort they provide to users. Touch on football is sublime and you effortlessly control and easily give and take football with simple passes.
They are very comfortable and durable I have used them for like 3 years and after cleaning them they looked like it is. I have used them in court sports only but also jogged in them on dry grounds which are often grassless like in Arizona soccer fields.
You can use these shoes for multiple activities like in the gym or in your informal business meetings because of their comfort and you will easily attract compliments because of their elite design which can easily go with your office environment.
If you had issues while playing soccer try using these after your recovery because they give you the right support even after you have recovered from your injury. But please keep this in mind avoid playing soccer if you are injured and follow your physio properly.
Their upper is made of kangaroo leather which is recommended for sports shoes because you can easily break in, it wraps your feet like a sock and gives warmness. The shoe is very firm and can be a good choice for defenders and midfielders. From my side, it's the perfect go-to shoe.
Comfortability level 92%
5. Adidas Unisex-Adult Copa Sense.4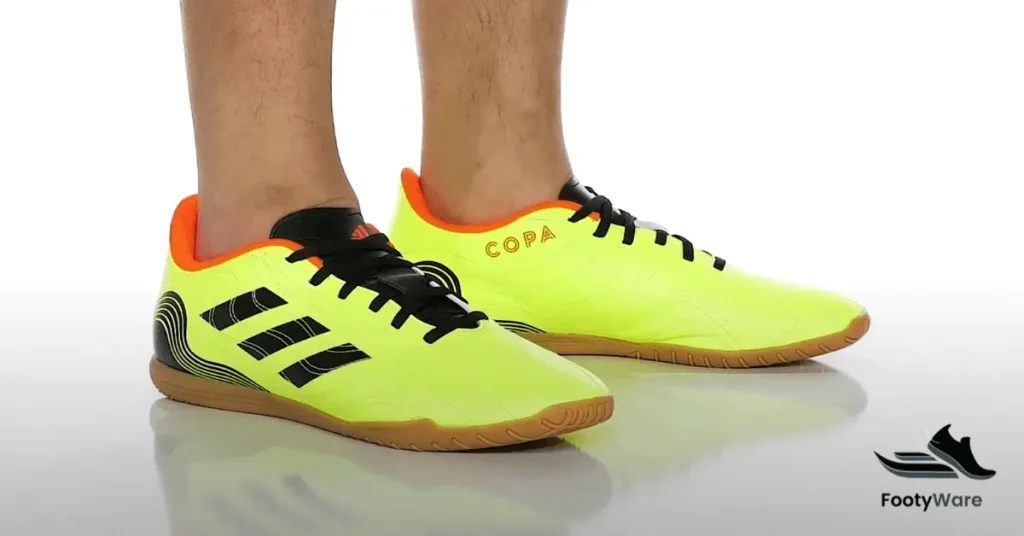 Adidas Unisex-Adult Copa Sense.4 is well padded and good quality insole provides you with the ultimate comfort. The shoe has some great cushioning provided to the user which makes it a little bit heavy to use on flat surfaces.
I have used it for long walks in winter and the shoe has provided me with perfect warmth because of its padding quality and its synthetic upper. A combination of both kept my feet warm even in light rain. Water can't enter from the side of the shoe.
Its style is unique and gives you the traction that is needed on the pitch to be confident on the ball while taking on defenders for scoring goals and providing assists to have an advantage over your rivals. It works very well on flat and shiny surfaces because they are very grippy.
The shoe is also environment friendly and made up of 50% recycled content so it also adds value to the environment. Being a supporter of climate change you should be proud of what you are doing for Mother Nature.
Comfortability level 88%
6. Adidas Unisex-Adult X Speedflow.3
Adidas Unisex-Adult X Speedflow.3 is synthetically made and also available in bright colors which makes them more prominent on the pitch. Upon testing the shoes, I felt they are good for instant movements that can be backward or forward.
The shoes are the best choice for those who are good dribblers and want to improve more because they are flexible and help you in instant body feints like Lionel Messi drops his shoulder and dribbles past defenders within the blink of an eye.
They are excellent while tracking back because they are very firm on flat surfaces and give you an advantage in moving back and forth and these features make them unique.
You can also feel the dominance in the air because they make you land gently and don't make you feel a jerk on your knees or stress on your ankles. This shoe can be a very good choice too.
Comfortability level 90%
7. Adidas Predator Edge.4 Indoor Sala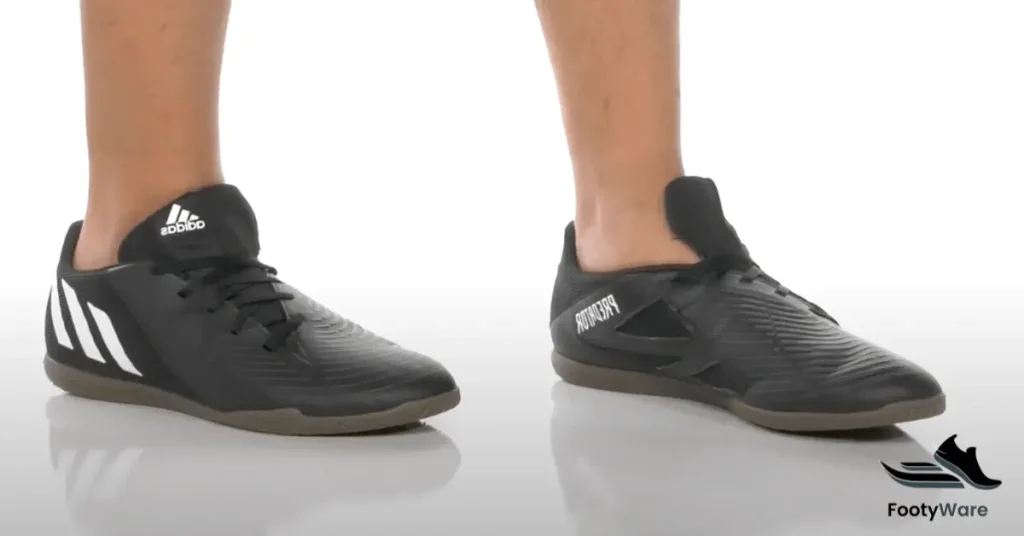 Adidas Predator Edge.4 is a shoe that can be used by beginners. It looks decent and provides you with traction on moves with and without the ball but the surface must be flat and shiny like wooden courts.
You can also use these shoes for multiple activities like squash, badminton, table tennis, and even long tennis. They will help you in joyfully doing activities. You won't feel burdened because they will make everything look easy for you.
During indoor games, you can have issues with heating your feet but the best shoes for indoor soccer are the solution for this. This is its mesh quarter which gives perfect breathability during indoor games and you can avoid the issue of excessive sweating.
Overall this is also a good shoe but I don't like it due to its design and appearance Otherwise I have played a few games in them and they were alright.
Comfortability level 85%
8. Adidas Unisex-Adult X Speedflow.4
Adidas Unisex-Adult X Speedflow.4 is a great shoe in terms of performance because of its quality and persistence this shoe has made to the list. I played table tennis in them and then also used to play futsal and they were good on the pitch.
Their upper is made of synthetic and the rubber outsole is best for indoor use Plus due to the quality foam, its insole makes this shoe very comfortable.
I liked the traction these shoes have provided me during indoor soccer on flat and wooden surfaces because these are made for shiny surfaces like NBA basketball courts. They perform to their optimum on surfaces like these.
These shoes are waterproof and can be used in light rain for evening or morning walks because their insoles are properly guarded and make you feel comfortable but not good for hiking or pointed rocks to walk on.
Some of these qualities make this shoe to be used for multiple activities but within the boundaries already experienced like you shouldn't prefer them to use on rocky mountains.
Comfortability level 85%
9. Adidas Men's Copa Sense.3 Indoor Sala
Adidas Men's Copa Sense.3 is well padded and very comfortable shoe due to its quality inner sole it can absorb shock effortlessly.
I have felt it while using this shoe in indoor soccer when I jumped for head my landing was very smooth as compared to other shoes. The shoe is a little bit heightened but that is OK and doesn't feel awkward.
Upon using these babies I was in love with their comfort level because they were at their best on hard and dusty surfaces. They were very grippy which helped me in sharp twists and turns and I effortlessly dribbled past defenders which gave me a lot of confidence.
They can also be used as sneakers for college or university as they are good to go for long hours like 7-8 hours and you won't feel exhausted. Its mesh tongue also gives breathability and you will feel more comfortable while sitting in classes for long hours.
Comfortability level 90%
10. Adidas Freak .3
Adidas Freak .3 is a very friendly shoe that can be used with or without laces so if you face issues while lacing up these are for you other than that they are the whole package of every other quality related to indoor games like soccer.
This shoe provides a snug fit which is essential to playing competitive indoor soccer other than that they are perfectly padded to support your ankles. The shoe has a synthetic upper which is good to go in light rain. The traction due to its rubber outsole and outrageous adding to this is relentlessly made with innovative demon design.
I used them after twisting my ankle during a match and after recovery, the first shoe I used was Adidas Freak .3 Indoor Soccer Shoes and they have supported me I felt confident wearing them on the hard and shiny surfaces of an indoor futsal court.
All in all, they are more than perfect to buy and you can have them for your next game. You won't regret it once you put your feet in the shoe because they are full of features needed for indoor soccer other than that you can also use them for multiple purposes like in the gym or badminton. So what are you waiting for?
Comfortability level 90%
11. Adidas Predator Freak .4 Indoor Sala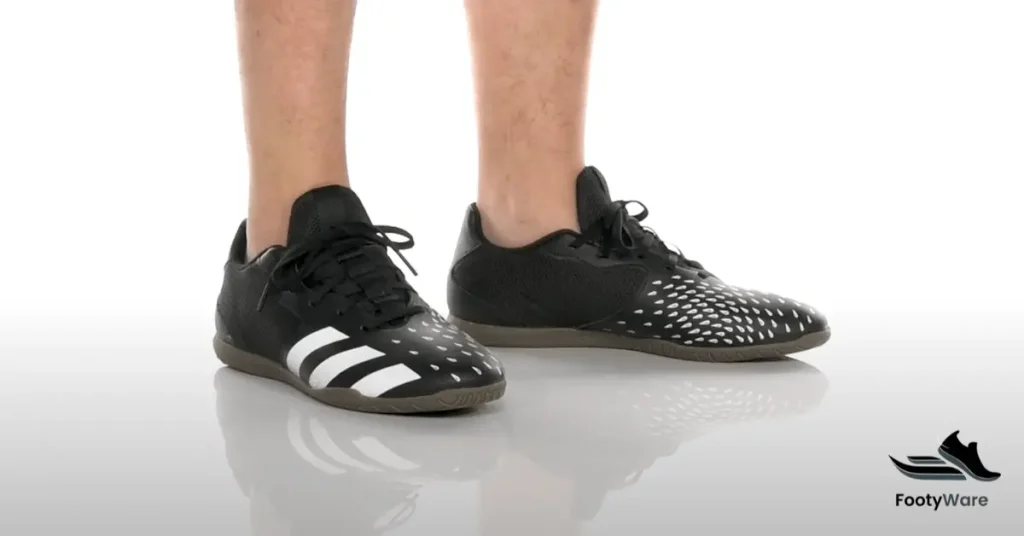 Adidas Predator Freak .4 is for narrow feet and heavily sweating feet because of the mesh quarter which works as ventilation and keeps your feet cool.
This shoe is of normal quality as I have played in them and have not felt anything special apart from that mesh structure which is something unique in the shoe that works very well in indoor soccer, especially in competitive games.
As far as this shoe is concerned this is good in terms of breathability Apart from that they are comfortable and give the best grip in indoor games. If you are not a regular player of futsal you can have this one because newbies have recommended it.
Comfortability level 85%
12. Adidas Men's X GHOSTED.3 Comfortable Shoe
Adidas Men's X GHOSTED.3 is one of the very light shoes Upon wearing them I felt that I had just worn a sock because they are like gloves and very snug fit. The shoe is flexible you can mold them easily which helps in taking sharp turns and supports instant back-and-forth movements in indoor soccer.
Indoor soccer is a very competitive game You don't have time to rest because there is constant attack and defense in the game you can't just sit back and relax you have to be mentally and physically very alert and this shoe perfectly fulfills all the criteria effortlessly.
Very uniquely designed and looks very good in the dim light like in the evening time they look very elegant. It is very comfortable with a perfect grip which is a requirement of indoor soccer. So this shoe is my personal favorite due to its mind-blowing features.
You can also use this shoe during workouts and weight lifting because they are very firm and give you the ultimate grip which is best in terms of balancing properly.
Comfortability level 88%
13. Nike Unisex-Adult(Best Comfortable Soccer Shoes)
Nike Unisex is an overall amazing shoe because it's coming from a well-known brand Nike which has been in the game for so long now that they know how to make a perfect recipe.
This shoe makes you more confident because I have experienced them as very grippy due to its rubber outsole which helps in providing the best traction one can imagine.
Nike Unisex synthetic upper is very comfortable because of its optimum quality with a central lacing system adding to this the design is premium which makes you feel elite. The shoe is very comfortable due to its insole and perfectly padded sides giving immense support to your ankles.
This is surely recommended for pros as well as for beginners. You can also use them for multiple purposes like for walks, weight lifting, or individual games like squash.
This shoe is the best bang for the buck because it provides all the features that are needed in indoor soccer also best for other indoor activities. You can also use it for walks on the road.
Comfortability level 90%
14. HGX Comfortable Soccer Boots Shoes for Big Boy
HGX indoor soccer shoe is shoes that have a snug fit and can be used without socks. The shoe is not from a renowned brand but has all the qualities of a well-established brand in this category.
While playing indoor soccer in these I have experienced that these are the best in all fields having a snug fit, perfect traction on flat surfaces, and waterproof due to their synthetic upper so I can easily say that they are one the quality shoes.
Not come from a renowned brand but is still very competitive and available at a cheap price as compared to other shoes in the list. You can also consider this option if you want a low-budget and good-quality shoe that is as comfortable as other shoes. In short, you can call it a good value-for-money shoe.
Comfortability level 85%
15. Nike Street Gato, Men's Sneakers Cushioned Indoor Shoe
Nike Streetgato is perfect because it is the latest one on the list and the most comfortable. You can wear these shoes without any second thought if you have the budget for them because they are a little expensive.
The shoe has everything available and provides a premium experience to the users. It easily absorbs shocks while jumping it's the most comfortable shoe in the category.
The sneakers can be used in multiple activities They are good to go you can jog, run, and hike in these even outdoors but if you want to enjoy indoor soccer in these then without a doubt they are the best. Everything is sublime and shoe makes your work rate effortless.
Recommended by the best of the game Ricardinho The Portugal futsal legend the quickest and most skillful player in Europe use these in competitive games what else can be more meaningful than this but one thing is they are little but expensive.
You won't regret this one but beginners should avoid it until they are good at the game if you know the basics then go for it with your eyes closed.
Comfortability level 95%
Conclusion of Best Cushioned Indoor Soccer Shoes
Keep this in mind always be very precise about your size otherwise, you will not have a good experience buying any shoe if it doesn't match your size.
All of these are of top quality, tested and verified so you can buy any of them after reading about them because I have been through this after using them and analyzing them in different weather conditions and tried them on different surfaces like flat, shiny, grassless, turf and even on wet ground and shared my personal experience.
I would like to suggest you if you are a beginner then have any shoes that are budgeted but if you are already playing league, semi-professional, or even pro then go for Nike Streetgato, because they are already used by pros like Ricardinho.
Note: This page contains links that earn me a small commission without any additional cost to you.
FAQs about Best Cushioned Indoor Soccer Shoes For Comfortability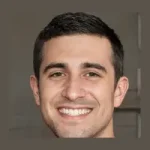 Winston Torres
I have been related to soccer for almost a decade now. I have also played other sports like Badminton, Table Tennis, and Long Tennis but now I wanted to write about them specifically footwear being used in these sports. I will be reviewing different sports shoes like indoor soccer shoes, futsal shoes, and volleyball shoes for you to have a bird's eye view.