[Top 21] Best Shoes for Indoor Soccer Tested Reviewed
Tired of slipping and sliding on shiny hardwood courts?
The wrong shoes can lead to loss of traction and sloppy play.
Find your grip with shoes designed specifically for indoor surfaces.
Have the best indoor soccer shoes that can transform your game and make you feel unstoppable on the court.
Football legends like Ronaldinho all started out playing fast-paced indoor soccer commonly called futsal. The quick gameplay builds decision-making, ball control, and footwork like no other. But you need shoes built for the plain, hard, and shiny surface and they should fit like a glove to feel like your skin.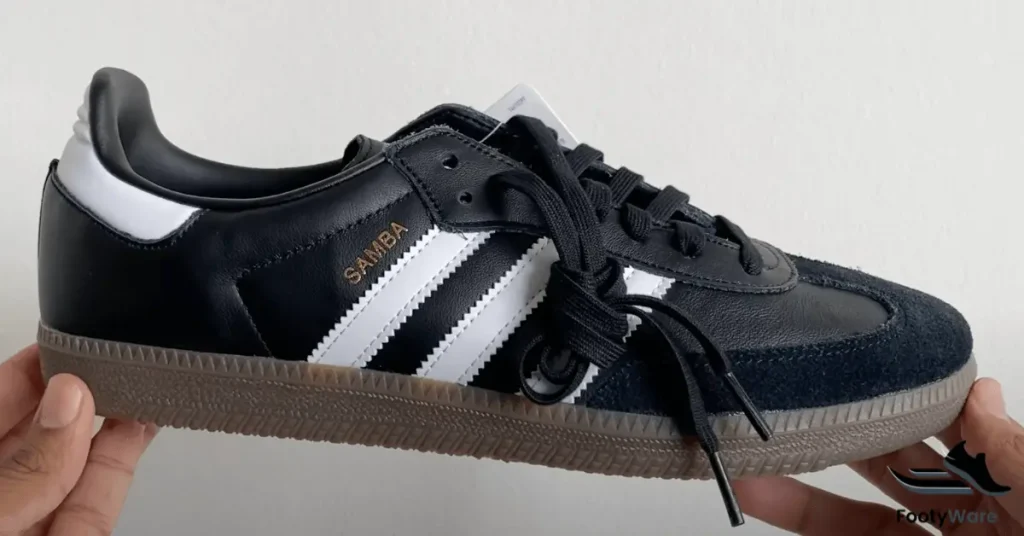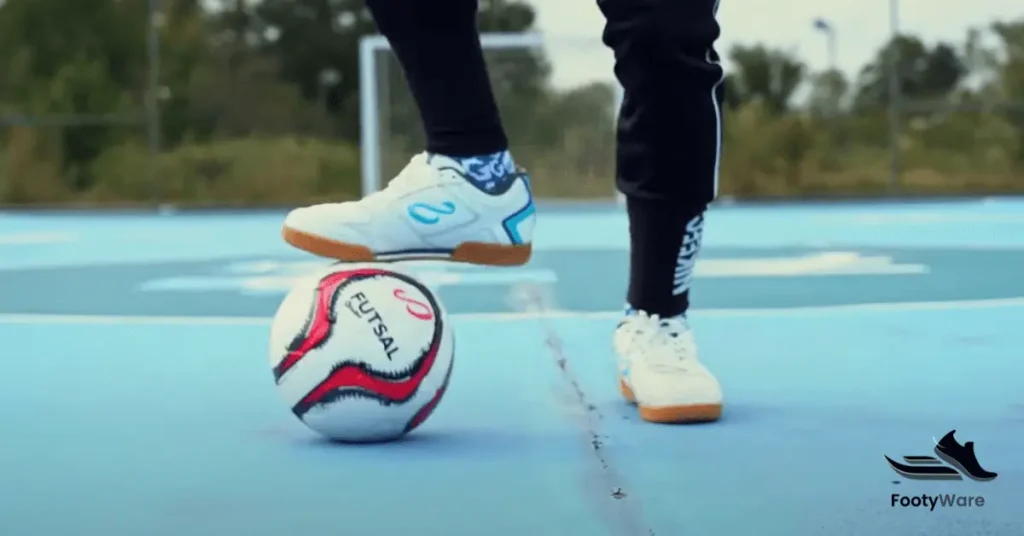 With over 10 years of experience playing indoor soccer, I know exactly what you need to dominate indoor soccer matches. A collection of reviews of indoor soccer shoes distills my expertise so you can find the best shoes to boost your speed, grip, control, and comfort.
After rigorously testing nearly 50 different indoor soccer shoes in competitive indoor play, I'm ready to reveal the top 3 picks that will take your indoor skills to the next level. These shoes have been thoroughly examined and experienced in indoor soccer matches and drills.
Don't settle for less than the best!!!
Please be very sure of your size because if you are not sure about this you will have issues like uneasiness and discomfort. These are the best bang for the buck, tested, examined, and experienced.
For details give it a thorough read!!!
Keep one thing in your mind be very sure about your feet size
List Of Best Shoes for Indoor Soccer – Best Court Shoes
These indoor soccer shoes are being tested in versatile environments to have real-life experience in testing them I came up with my observation for the products mentioned below and I have also included other expert reviews to offer more credibility to my valued users.
1. Adidas Mens Samba Best Indoor Soccer Shoes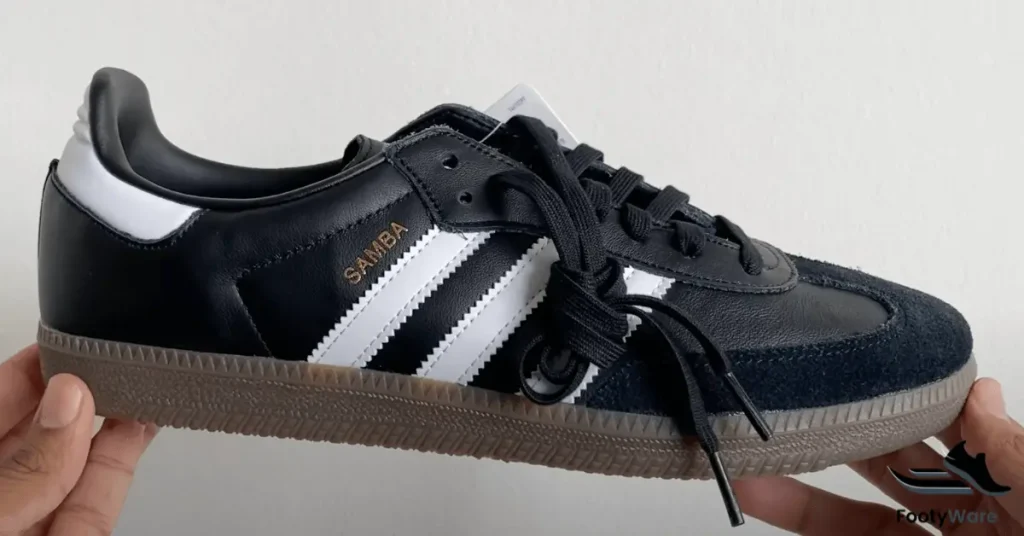 Kangaroo leather upper molds perfectly to the shape of your foot over time for a truly customized fit.
The top spot and undisputed king in this category are matchless in every possible aspect due to the winning combination, well-balanced, and versatility it offers, It's durable and has a comfy feel because you need that on hard surfaces with an elegant look it worth the money you are paying and already tested in highly harsh conditions like on rough floors or even on shining one they are incredible.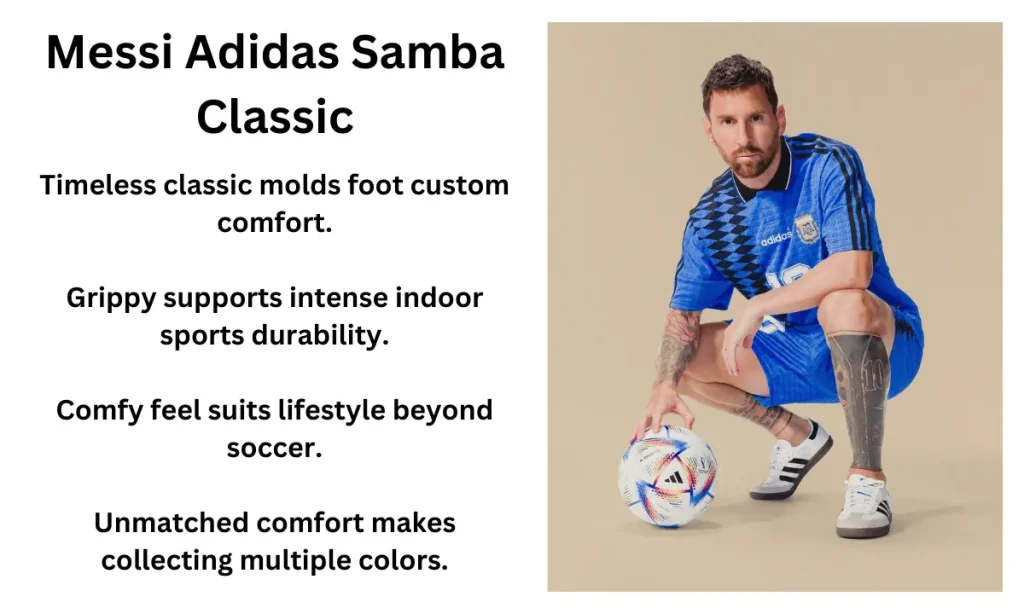 Adidas Men Samba's upper is made up of kangaroo leather which provides the exact feel of the shoe and as you wear them for more time it softens with time and adjusts according to the shape of your foot.
The shoe provides you with the right support that is needed in tough games on a hard surface and gives the best grip and comfort which is the need of any football player who plays with passion and dedication. They are also called the OG of indoor football.
You can use Adidas Men Samba for many activities like jogging, running, dancing, walking, etc. and they never disappoint even though I used to wear them for college too and look good in jeans and white shirts. Once you have them in one color you will want them in other colors due to their comfort and natural feel.
Comfortability level 95%
Ratings: 9.7/10
2. Diadora Men's Capitano ID Indoor Soccer Shoes
Snug midfoot and toe box fit work excellently for players with narrower feet seeking a glove-like fit.
Diadora Men's Capitano ID Indoor Soccer is being used for multiple purposes like walking, jogging, and playing table tennis where sharp movement is needed. They give us the right traction that is needed on flat and hard surfaces.
Upon wearing one, it feels like it is gently wrapped in your foot to provide us with the proper grip. They are also recommended for use in any weather condition because they are waterproof from the outside (except where rain pours in from the lace area). Slip-resistant and with all the comfort one can imagine.
It's a little bit narrow, but you can break it in easily after using it for 3-4 days. They work well on dusty and flat surfaces. They are a little bit heavier than usual shoes, but they are more durable than other shoes in the same category.
Good choice for those who are aggressive in their approach during playing or have a rigorous routine like sharp movements or turns during indoor soccer. Best choice for indoor soccer one can have at this price tag.
Comfortability level 85%
Ratings: 9.5/10
3. Adidas Predator Men's 20.3 Indoor Soccer Shoe
The minimalist laceless upper provides an unobstructed strike zone for clean ball contact and control.
Adidas Predator Men's 20.3 Indoor Soccer Shoe is an awesome shoe for those who don't want to use laces because they can be used even without laces, upon testing I have noted that they still provide the right grip but lack support while using it without laces but still that can be neglected if you are not using it in very tough games.
Multi-colour with a cool design, this shoe is an amazing choice for those who want to wear shoes having color contrast because they are absolutely good in this and provide you with the right outlook which looks very cool with white long socks.
It takes 3-4 days to adjust to your feet and then you can easily use them for a long time. In indoor soccer, this shoe is best for the player who plays more with their body and loves to hold the ball in the center because they are very firm against the ground.
Its look is very versatile because it provides you with the right feel while playing due to its snug fit in your feet like a sock. You can easily dominate the game while putting on them because they have specialized in indoor soccer shoes for a very long time now.
Comfortability level 93%
Ratings:9.4/10
4. PUMA Mens Super Liga OG Soccer Shoes Indoor
True to size fit hugs the foot securely from heel to toe for excellent lockdown and stability.
PUMA Mens Super Liga OG are super grippy shoes Upon using them in games I realized they are very comfortable. The shoe is a combination of suede and leather which gives an awesome look even though I used to wear them to the office because they are super comfy and look good on jeans and a white shirt.
Shoes are very grippy, reliable, and durable so you can easily choose these shoes for multiple activities. Playing soccer in these is just one thing that is its top specialty but other than this they can be used indoors and outdoors. They can also be used in long tennis; they are very supportive from the inside.
You have to be cautious about size because that's what the main complaint is so be sure about your size before adding it to the cart.
The slick design is not for wider feet but playing in them is very comfortable because they make you feel light and carry on running on the pitch but that must be hard like indoor soccer courts or wooden surfaces or even roads. You can also use them for skating and they look super cool due to their design.
Comfortability level 92%
Ratings:9 /10
5. Adidas Freak .3 Best Indoor Soccer Shoe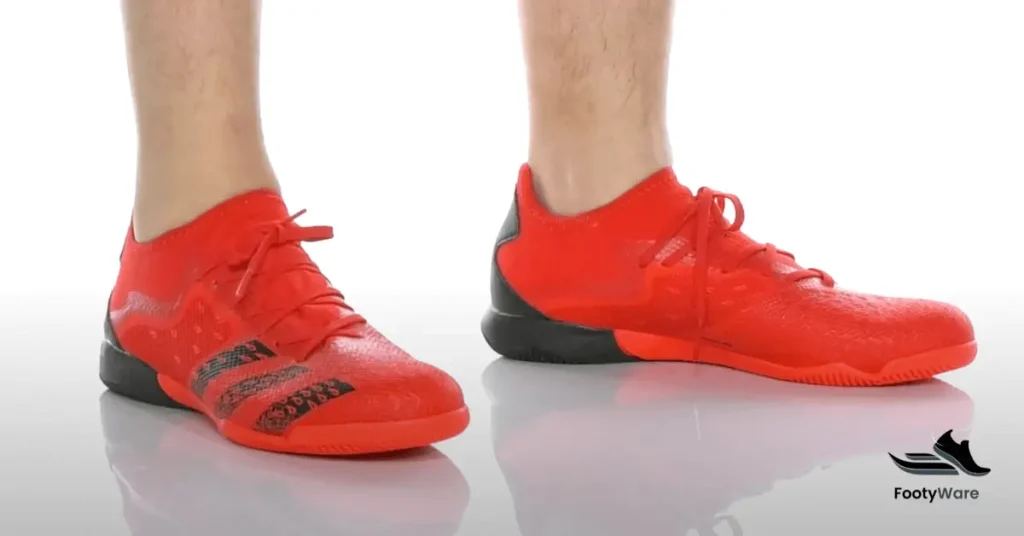 Lightweight and flexible synthetic upper enhances quick cuts, acceleration, and overall agility during play.
Adidas Freak .3 Indoor Soccer Shoe works best for aggressive forwards with explosive runs and on-the-spot stability because trickery is the main quality of a player playing in front of the goalpost to score a goal.
This is designed for aggressive forwards who are playing more physically because, obviously, on small pitches, there is less space, so more physicality is needed, and these are more than perfect in situations like these.
Its upper is made up of synthetic which makes it supportive for us to play in and move around the court comfortably.
The lace pattern gives more control in movements and adds precision in sharp turns and passes. A sock collar gives more support, and increases ball control and grip; adding that to the rubber outer sole is a plus on small pitches. Light padding gives more comfort and support to our ankles.
After using this shoe, I can say it is good for someone who looks for style, comfort, and the right traction during tough games. Also perfect for indoor drills i.e. for short sprints and sharp twists and turns.
Comfortability level 90%
Ratings: 9.5/10
6. Nike Men's Killshot 2 – Best Soccer shoes for Indoors
Premium full grain leather develops character and forms to your feet over time for a broken-in feel.
Nike Men's Killshot 2 is a lightweight modern look and style, Made up of quality material, Feels comfortable with a good amount of cushioning, is Good for all-day wear with no foot fatigue, and Looks good on jeans and shorts, Leather Elevates the visual Impression with classic navy swoosh(Nike tick sign) on both sides impressive low key, Versatile and worth the price, classic outfit, Vintage styling of gum sole Narrow shoe leather and suede, almost everyone wears it
One of the elite lightweight shoes best for indoor soccer it has perfect traction on dusty and flat surfaces. They are also good for shining surfaces like basketball courts in the NBA.
After using these for months I am in love with these beauties. They can be used for multiple purposes like playing football, table tennis, and badminton. They are perfectly padded so you can use them for the office and it gives you ultimate comfort.
Nike swoosh enhances its elegant look and makes it look like highly-priced shoes. They are good to go with formal and semi-formals any day. They look awesome in shorts and a plain white T-shirt.
Their upper is made up of leather and the outsole is of rubber to provide you with the required traction while playing soccer on shiny surfaces.
They are white so playing on hard surfaces rough marks become visible due to rough surfaces like playing on road etc
Comfortability level 91%
Ratings: 9.5/10
7. SENDA Ushuaia Pro 2.0 Best Shoe for Indoor Soccer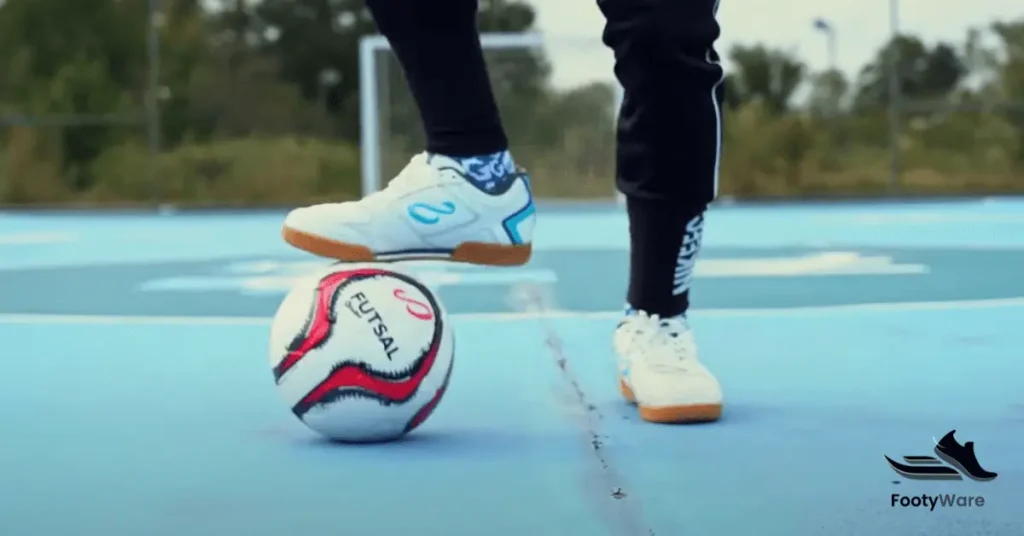 Expect an initial break-in period, but the resulting comfort and fit is exceptional once molded to your feet.
SENDA Ushuaia Pro 2.0 is a game-changer shoe, Senda has pledged to make quality boots for indoor soccer. Upon using this shoe I felt that both comfort and power are best for fast-paced games in which you need to move around fast with sharp twists and turns which is the main requirement of indoor soccer.
It's made up of a fine combination of leather and synthetic to increase ball control and give firm support. Its midsole provides delightful comfort plush cushioning increases comfortability and it gives perfect impact control and stability due to its rubber outsole.
The rubber gum outsole provides you with the best traction needed in small-sided games. This shoe is recommended for indoor soccer fanatics and for playing badminton indoors.
It takes time to break in but once you break in these are the most comfortable of all because they wrap your feet and provide you with a snug fit, are firm in construction to provide a solid look.
A shoe designed specifically for indoor soccer on flat, shiny, and wooden surfaces is highly recommended for pro players because this shoe has all the qualities a pro player needs like responsiveness and perfect traction, and is best for instant moments with eye-catching design. beginners can also use it as they also have the will to excel in the game.
Comfortability level 95%
Ratings: 9.5/10
8. Adidas Predator Freak .4 Best Indoor Sala Soccer Shoe Men's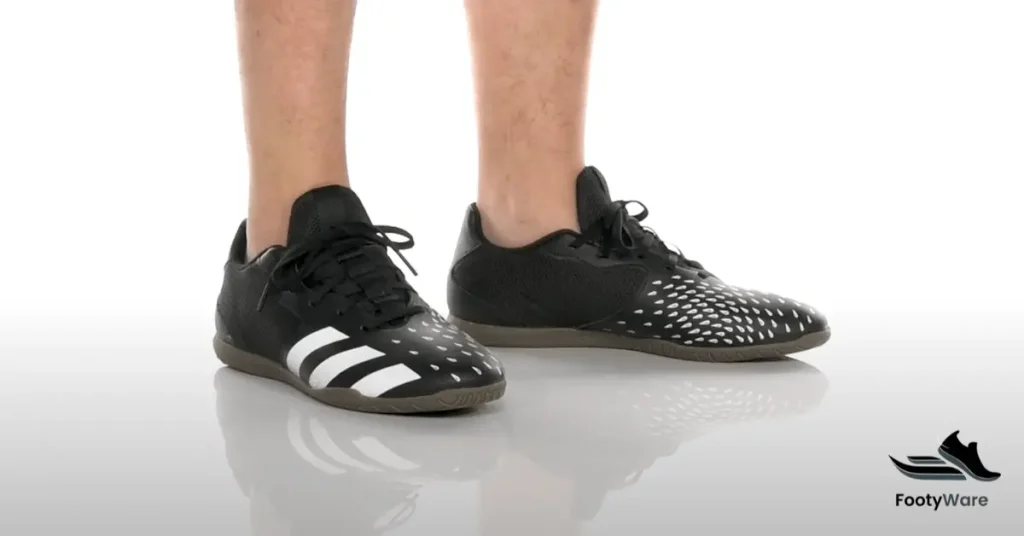 Snug forefoot fit enhances ball control and touch on the ball for precise dribbling and passing.
The Adidas Predator Freak .4 shoe has amazing cushioning and provides the support that is needed at the time. I have had an amazing experience while wearing them in indoor games in hot environments with increased humidity levels but they haven't disappointed me in terms of playing indoor soccer in extreme conditions because they are built for it.
The Boost midsole foam provides responsive cushioning that holds up even after hours of playtime. I never feel the hard impacts underfoot that can lead to foot fatigue and pain. The sock-like Primeknit upper adapts to the shape of my foot for a dialed-in fit. It wicks moisture well to keep my feet dry.
Traction comes from the rubber outsole studs in a 360-degree pattern, giving me equal grip no matter which direction I'm moving. The low-profile sole kept me close to the ground for excellent stability when cutting and changing directions rapidly.
In addition to indoor soccer, I've worn the Predator Freak 4's for badminton, pickleball, volleyball, and for workouts at the gym. The reinforced toe cap protected my feet during plyometrics like box jumps. The Boost foam cushioning helped reduce joint impact from jumps and burpees.
The Predator Freak 4's check all the boxes for the ideal indoor sports shoe. I'd recommend it to any indoor athlete looking for lightweight comfort, multi-surface traction, and durable performance. After hours of high-intensity play, my feet feel great thanks to the responsive cushioning and adaptive knit upper.
Comfortability level 85%
Ratings: 8.5/10
9. Adidas Men's Nemeziz Messi 19.3 Indoor Soccer Shoes
Tight fit through the midfoot is ideal for rapid changes of pace and direction.
Adidas Men's Nemeziz Messi 19.3 is a shoe worn by one of the top players of the time Lionel Messi after testing it in some real matches of indoor soccer I can say it's a very comfortable shoe because of its support system in the midsole and stability provided by its outer sole is at its best which makes it look slick.
Grabbing your feet like a sock without compromising on comfort is the core aspect of the shoe but not recommended for walking on irregular surfaces outside like on the road for long hours you can use it for a short walk even outside.
Kids who love funky colors surely gift these best indoor soccer shoes for kids as they look cool if you want to wear them in other indoor activities like playing badminton, table tennis, or indoor soccer. Its rubber sole provides a firm grip on flat and shiny surfaces like indoor courts usually provide.
This shoe is for those who are of short height and love to dribble the ball they can prefer this shoe. They will help you rip off the defense of the opposition and will help you in aggressive moves on and off the ball.
Showing off Messi's logo, the hard-wearing textile upper on these soccer shoes supports you through every twist and turn. Sock ankle provides more security to your ankles and a perfect feel while shooting
Best for the weather due to the synthetic material that provides perfect warmth to your feet in winter and protects feet from freezing in cold. They are durable for both kinds of weather
If you want to use them without laces they are still perfect and give you the right support you need during tough games almost the same amount of traction is provided even if they can be used without socks.
If the sock ankle is irritating you can also give a little cut on its upper side. It will be more than easy to wear because you can face a little hassle but you can also avoid it.
Comfortability level 92%
Ratings:9/10
10. PUMA Men's 365 Netfit Ct for Indoor Soccer
Innovative lacing system allows you to customize the fit across the upper for your ideal lockdown.
PUMA Men's 365 Netfit Ct is a unique shoe that has multiple options in the lacing system and its upper surface which is net fit after using this shoe I was confused about its lacing system but later I got to know about its real function.
This is a shoe that can be used for both narrow and wide feet because it can be customized according to your requirements with the help of its unique lacing system(how to use its lacing system effectively). If you have very wide or fat feet you can also use it. By the way, the lacing area looks very cool and they are unique in their design
Upon using this shoe I can say it is quite breathable and flexible and provides comfort for 2-3 consecutive matches because it confidently wraps your feet with the right traction demanded by indoor soccer due to its rubber outer sole that is perfect for flat surfaces.
The lightweight shoe in its category with the support it offers is just amazing for making it further light. You can remove its removable inner sole.
Its sleeve-like structure makes it more comfortable and works like a sock so you can use it without socks and won't feel the difference. It feels like a glove upon wearing and adopts the shape of feet very easily which makes us feel more comfortable.
Very slick and unique design that can easily fit in your feet without any delay. It's really worth the money.
Comfortability level 92%
Ratings: 9.5/10
11. Adidas Predator Edge.4 Indoor Sala Soccer Shoes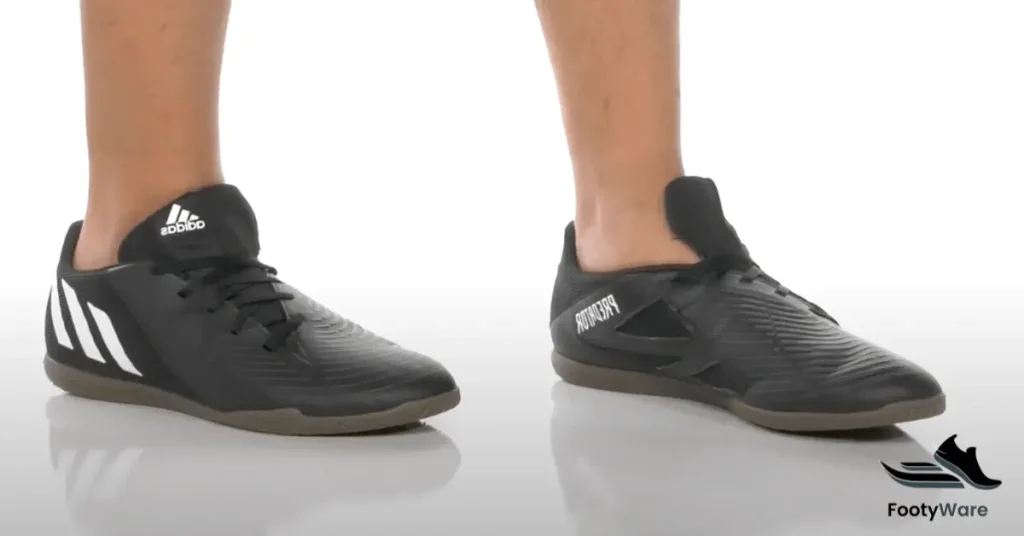 Durable enough construction for regular indoor use on basketball courts and indoor surfaces.
Adidas Predator Edge.4 is simple yet elegant in look and fits really well so for that you have to order a size up to avoid a tight fit which is a hurdle in sharp movements.
Breathable shoe due to its mesh material so you can play for long hours without any hesitation on flat and shiny surfaces, the tongue makes it more breathable and as a result less sweating. Rubber outsole works perfectly on flat and shiny surfaces which provides perfect traction. Not that durable on rough surfaces.
One more important thing: 50% of its material is taken from recycled products. Synthetic texture gives a unique look and ultimate comfort because of its mesh structure which keeps our atmosphere chilled inside.
Comfortability level 85%
Ratings: 8.5/10
12. Adidas Men's Women's X Speedflow.4 Indoor Soccer Shoes
Synthetic leather upper breaks in to perfectly conform and adapt to the shape of your foot.
Upon using Adidas Unisex-Adult X Speedflow.4 indoor soccer shoes on a hard, flat, and shiny surface I felt it hard on my feet but after I broke into it after 3-4 games shoe was settled in my feet and had a snug fit that felt so comfortable and full of confidence that I would easily dribble past the defense effort.
While accelerating helps in lateral movement of feet and feels like a sock buy a size up because the main issue I face in most shoes is of size otherwise almost every shoe is good but some are exceptional. I have used this shoe in various games like table tennis, badminton, and volleyball.
I have experienced that the shoe's compatibility level is up to the mark and provides the best traction one can think of which helps us in the game against our opponents. Amazing grip with perfect support on flat shining floors.
Once you break into these shoes you will like to play in them indoors because they are best in business. Its material is recycled 50% so you can say they are environment friendly adding to this the synthetic upper is waterproof and best to be used in ice-cold weather.
Comfortability level 85%
Ratings: 8.7/10
13. PUMA – Men's Capitano Ii It Shoes for Indoor Soccer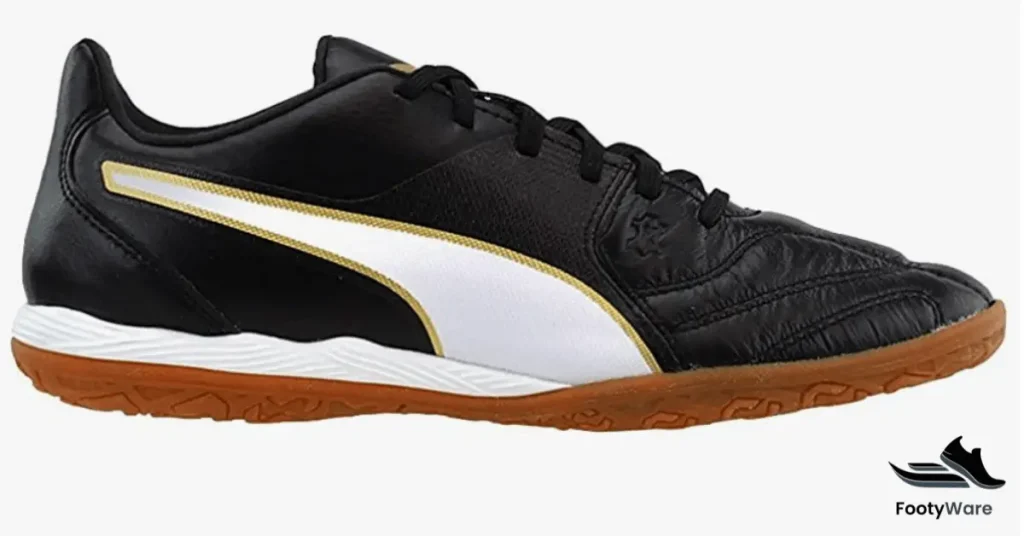 Runs slightly small but forms to your foot after break-in for a true-to-size comfortable fit.
Puma is one of the oldest brands in the sports category and PUMA – Men's Capitano Ii It Shoes upper is kangaroo leather which upon use starts working like skin because it wraps my feet and snug fit while its outsole is made up of rubber which performs perfectly on flat and shiny surfaces.
It's so durable if used indoors for playing games like indoor soccer, badminton, or table tennis. It's not a shoe just for a single season but for more than 2-3 seasons. Best for flat feet because of no arch While playing you will feel comfortable. One of the lightweight shoes with the best grip while playing on shiny surfaces.
Keep one thing in mind, be very cautious about the size because this issue is very common.
Comfortability level 88%
Ratings: 8.5/10
14. Adidas Men's Nemeziz Messi 19.3 in Indoor Soccer Shoe
Snug fit through the midfoot enhances touch and faster footwork.
Adidas Men's Nemeziz Messi 19.3 indoor soccer shoe has been in the game for so long and is also worn by one of the greatest football players of all time; The GOAT Lionel Messi.
Upon using This shoe is lightweight and holds its ground firmly while being used on shiny surfaces of different games like indoor soccer, squash, and table tennis.
The Aesthetic color gives a fine feeling while wearing the shoes as it's very comfortable, recommended for short walks, and also cheaper than others. You can rely on them in light rain and they won't disappoint.
A little bit narrow so to overcome this order a size up and enjoy its traction on the floor, Perfect padding on the inside with vibrant color looks appealing.
This can be an option if you want a shoe for multiple fitness activities like soccer, hitting a gym, or other sports played on flat and shiny surfaces.
Comfortability level 90%
Ratings: 8.8/10
15. Adidas Men's X Tango 18.3 Indoor Soccer Shoe
Great match for players with average to slightly narrower feet seeking a contoured fit.
Adidas Men's X Tango 18.3 shoe is also used by the GOAT Messi but in cleats while this one is for flat surfaces. While wearing them in a match I felt they were very comfortable and because of the padding and midsole perfectly made to give real comfort.
Their performance on shiny surfaces is unmatchable because of the built quality they perform top-notch. They grab the floor like glue and give firm support to the player.
Its synthetic is quite comfortable and durable and also gives an elegant look while using it on wooden floors. Lightweight shoes that feel like socks and wrap your feet firmly are perfect for those who dribble a lot and play with an aggressive approach because they help with sharp turns with accuracy and precision.
Its sock construction has your foot and makes it comfortable, light weight which proves to be detrimental while accelerating on the floor during indoor soccer formally called futsal or court soccer, It is a synthetic material and its outer sole is of rubber which provides an ultimate grip that will surely help you and twist and turns. The best breathability due to mesh and very firm touches on the ball makes you fall in love with the game.
They are not recommended for Very Wide feet better to order a size up, They provide you with very nice support plus style, You can also play multiple games in these shoes like Tennis Indoor soccer badminton, and table tennis
They don't go well on turf. The lack of flexibility, It's best to boost your performance, Its collar gives you perfect support, Central lacing system wraps your feet Perfectly fit. The lacing system provides breathability due to its mesh structure of the tongue.
Comfortability level 90%
Ratings: 9.1/10
16. Nike Unisex-Adult Football Shoe Indoors
Supportive sole and upper securely lock down feet for confident lateral cuts.
Nike Unisex has been in the game for so long now that they are a leading brand in sports goods so how can we keep them out of the category of indoor soccer shoes so this shoe is being picked after using it rigorously on flat surfaces?
Nike unisex is one of the most responsive shoes in the category because of its features that you will feel on the pitch during the game. A very lightweight and sock-like shoe you will feel that you are playing barefooted but it will grab your feet so effortlessly that you can easily fall in love with them.
Available in bright colors that look very unique with that they are designed to provide the best possible traction and firm support due to their rubber outsole which helps during acceleration and instant movements in the game because indoor soccer is all about quick runs and effortless turns.
So in my opinion the shoe is highly recommended for those who play indoors.
Comfortability level 93%
Ratings:9.3 /10
17. Adidas Unisex-Adult Copa Sense.4
Sleek, foot-hugging profile ideal for fast-paced indoor play on hard courts.
Adidas Unisex-Adult Copa Sense.4 is a shoe that consists of a synthetic upper, rubber outsole and perfect cushioning collectively making it a compatible shoe for indoor games like short football, table tennis, squash, or badminton.
The shoe is grippy on indoor soccer courts and gives the perfect support against rivals. You can dominate them while using this pair if you know the technique of moving the ball around the court.
The shoe is good for short dribbles and aggressive shooting; it provides support to play rough games. The shoe is made of 50% recycled material so it also impacts positively the environment. Do keep this in mind Be very cautious about size because it's a narrow shoe better to order size.
All in all, it's a bang for the buck.
Comfortability level 85%
Ratings:8.8 /10
18. Adidas Men's Copa Sense.3 Indoor Sala Soccer Shoe
Plush interior padding prevents hot spots and discomfort during play.
Adidas Men's Copa Sense.3 shoe is very comfortable and gives ultimate breathability due to its midsole and collars because they are mesh material you will enjoy playing for long hours even in summer you won't feel extensive sweating.
Other than that shoe is a little higher because its inner foam makes it more comfortable. The shoe is very much supportive when you jump for the head and you won't feel any jerk while landing on the floor.
Designed to play indoor soccer but you can also use it for different games like badminton, table tennis, and other indoor games. They can also replace your sneakers because they are comfortable even for long walks and they would support you to go far.
I would recommend you order a size up to avoid any mishap.
Comfortability level 93%
Ratings:8.7 /10
19. Adidas Men's X Speedflow Messi.3 Indoor Boots Soccer Shoe
Anatomically contoured fit wraps your foot for enhanced control and touch.
Adidas Men's Women's X Speedflow Messi.3 shoe has the best traction due to the material of its outsole because it grips the floor firmly and gives support to ankles while twisting and turning on a small pitch. To avoid any inconvenience please order size because this leads to confusion mostly.
The shoe upper is synthetically made which means it's waterproof and can be used in harsh conditions like in winter you won't be disappointed because I have played in -3 but they haven't lost grip. I have played outside with them on a basketball court.
This shoe is perfect for players who roam around the pitch aimfully and are always looking for the breakthrough for their team because they are comfortable to wear and one can move around freely because they are lightweight. It's made of recycled content so they are environmentally friendly.
This shoe is for explosive action on the pitch because it works best in rough matches and gives real confidence to concur the game. Slick shoes are good for shooting the ball accurately.
Comfortability level 93%
Ratings: 9.2/10
20. Adidas Unisex-Adult X Speedportal.4 Indoor Shoe
Cushioning systems adapt and support feet over time for a truly customized, broken-in feel.
If you are a player full of agility and always move around the pitch too much then the shoe is for you as it is a shoe that is lightweight, very flexible, and perfect on shiny surfaces like courts so you can choose this unique shoe for indoor activities.
I have noticed this in the Adidas Unisex-Adult X Speedportal 4 shoe is very comfortable and grippy because of its built and slick look. They are very unique in their way providing you with the perfect traction.
They are of synthetic material means they are waterproof and the rubber outsole increases grip and holds the ground firmly without much difficulty. Little bit tight in the start but when you break into these they are for real business. Soft and durable, can be used in harsh weather conditions they won't disappoint.
They are also environmentally friendly as they are made of 50% of recycled content. Perfectly padded collars give you the ultimate support in sharp twists and turns.
Comfortability level 92%
Ratings: 9/10
21. Nike React Legend 9 Pro IC Men's Football Boots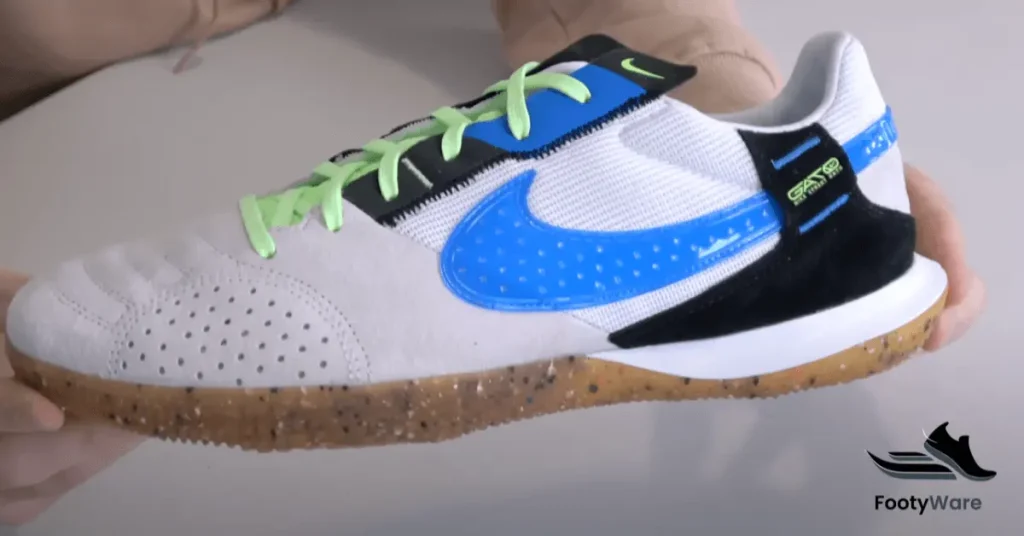 Constructed with premium materials for elite-level play and durability.
Nike React Legend 9 Pro IC Men's shoe is one of the premium leather shoes in this category that have all the features that are needed for playing on flat surfaces because they are built for playing indoor soccer even professional court soccer players like Ricardinho also use these.
It has a unique design and is very soft from the inside due to perfect padding. You can also play for long hours because they are very comfortable and give you the best feel while kicking the ball. The best shoe for dribbling and shooting, very responsive, and works efficiently on shiny surfaces.
Premium leather gives the perfect look supported by resilient foam from the inside that feels comfortable but they are a little bit expensive as they are durable and fully featured shoes for indoor soccer players recommended by pro players. They feel bouncy like you are running on springs.
Best traction due to its outsole which gives perfect grip on flat and shiny surfaces like courts or other wooden surfaces. Upon use, I can say that it is very responsive on the offensive side and best for strikers.
Comfortability level 97%
Ratings:9.5 /10
Buyer's Guide Choose The Best Indoor Cleats
Before you venture into the market, we would like to give you a couple of pointers to help you pick the best indoor soccer shoes. Soccer shoes for indoor surfaces may appear simple, but they have many components that could make it difficult for you to distinguish between the top products. Therefore, we have listed the following points to act as a tie-breaker.
The Durability of Indoor Soccer Shoes
Irrespective of the material being used, your indoor soccer shoes must be built to endure the rigorous use of playing on indoor surfaces. While the material must be sturdy, it must not make it heavy. So, make sure it retains its lightweight nature.
The comfort of the Shoe
Also, despite having sufficient durability, you must feel comfortable wearing your pair of soccer cleats. It shouldn't be too tight, and there must be adequate breathing space to reduce fatigue. Indoor soccer is also a contact sport, and without comfortable shoes, it's challenging to produce the best performance and maintain a low profile suited for indoor fields.
Top Control of the Ball
Your indoor shoes for soccer must provide supreme control when you're playing on indoor surfaces. To be one of the best while playing indoor soccer, you need the right touch and enhanced grip. Make sure everything from the stitching to the material used for constructing the shoes culminates in ensuring more balance and control.
Buying Guide for Best Indoor Soccer Shoes
Buy the best indoor soccer shoes based on the following features
Outsole provides traction
The insole gives you comfort and warmth
Can be laceless or with laces
Well padded
Leather or synthetic upper
Proper fit can be a snug fit
Conclusion Of Best Indoor Soccer Shoes You Can Pick and Choose
As indoor soccer is played on small fields, instant movements are required on and off the ball. On hard surfaces, the shoe provides the support you need in tough games. In addition, it provides the best grip and comfort, which every indoor soccer player needs.
Many shoes are being discussed after using them in real games indoors on hard, flat, and shiny surfaces and they've worked amazingly on them. Most of these shoes are very comfortable and flexible which means they're responsive which is needed in indoor soccer.
Indoor soccer is very competitive so you need features to accommodate the shoe and must be comfortable with the best traction to help you in instant movements back and forth with or without the ball. It should help you in sharp turns with the ball.
The indoor shoe must be slip-resistant to provide us with the comfort and support required in competitive games. So go for comfortability rather than cheap price.
Why you should trust us?
Keep one thing in mind Be very specific about your shoe size because they play a leading role in your experience with the shoe. The exact size can give the best experience otherwise your experience with even the best shoe will be ruined.
Our main reviewer is also our writer Mr. Winston Who has played indoor soccer for almost more than a decade now. He has also played outdoor soccer too so he is very experienced in providing you with his hands-on experience.
So we are here taking advantage of the experience our main author has as he has played soccer for almost half of his life at a semi-professional level and also in different city leagues.
FAQs of Best Soccer Shoes Indoor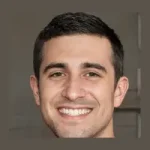 Winston Torres
I have been in relation to soccer for almost a decade now. I have also played other sports like Badminton, Table Tennis, and Long Tennis but now I wanted to write about them specifically footwear being used in these sports. I will be reviewing the best indoor soccer shoes for you to have a bird's eye view.