Top Shoes – What Are Indoor Soccer Shoes?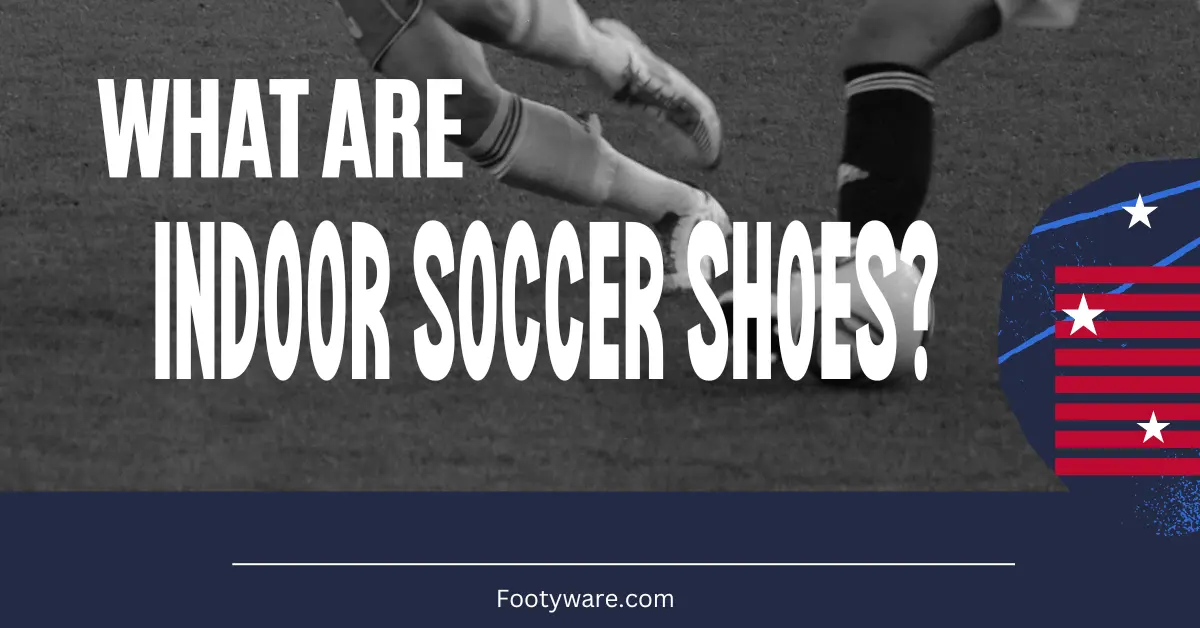 Practically explained what are indoor soccer shoes and what they can be used optimally. Indoor soccer shoes are being used in indoor soccer and you can also call it arena soccer. Indoor soccer is a fast-paced and dynamic game that requires specific footwear to optimize performance and prevent injuries.
In this article, we will explore the world of indoor soccer shoes, their importance, key features of indoor footwear, types that're easily available, tips for choosing the right pair, and what're some top brands in the game to consider with a blind eye.
Whether you're a seasoned indoor soccer player or just starting, understanding the significance of proper footwear is essential for your game.
What's Basically Indoor Soccer?
Indoor soccer is small-sided soccer basically played indoors independent of weather conditions. It's a flexible game with timings and players according to the availability, which means you can also play with 3 vs 3 and also for less time like 15-20mins each.
Indoor soccer, also known as futsal or five-a-side, is played on a hard court or artificial turf surface. Unlike traditional outdoor soccer, this format emphasizes close control, quick passes, and agility. To excel in indoor soccer, having the right footwear is crucial.
What are Indoor Soccer Shoes Exactly?
Indoor soccer exploded in popularity for good reason – it's fast-paced, high-scoring, and fun with multiple back-and-forth movements in instant moments! But to play your best on the hard indoor court, you need shoes built for the unique demands of the indoor game.
Indoor soccer shoes differ in their outsole and construction to give players the edge on the indoor pitch against their opponents. The outsoles are made of durable, grippy non-marking rubber instead of studs. This allows for quick cuts, pivots, and traction on the hard court surface.
The uppers are synthetic leather or lightweight knits that support fast footwork and ball control. The low profile cushioning absorbs impact from the unforgiving hard surface. Every component aims to match the lateral movements and pace of indoor soccer.
Why Do You Need Indoor Soccer Shoes?
Outdoor cleats with long studs will get stuck, slip around, and limit your mobility indoors. Their higher profile also raises your risk of ankle twists. Indoor shoes have features tuned specifically to enhance your game on an indoor surface which is mostly plain, shiny, and wooden surface.
Multi-directional traction patterns grip the court for quick cuts and rolls. No more slipping!
Snug synthetic uppers move with your foot versus bulky leather cleats.
Low-profile cushioned wall protects against the constant impacts of a hard court.
Padded tongues and collars prevent blisters and hot spots from fast play.
When you wear the proper footwear, you'll sprint down the wings faster, cut sharper, and control the ball effortlessly. Having shoes suited for the indoor court gives you the confidence to play all out. Take your game up a notch and put your team in the winning spot.
Finding Your Match
With brands like Nike, Adidas, and Puma, you have plenty of indoor options. Look for shoes with your preferences:
Playmakers prefer supple leather for a ball feel.
Midfield engines need lightweight synthetics for speed.
Defenders opt for low profiles for stability and to put it tackles.
No matter your playstyle, you'll gain better traction, motion, and impact protection with indoor shoes versus outdoor cleats or running sneakers. Break in those new indoor shoes during practice to unlock your full potential during game time!
Best Indoor Soccer Shoes in Different Playing Conditions
I have tested almost 40 plus shoes and reviewed 20 among them and in those 20 I have chosen the top 3 among these and these are the top-notch comfortable indoor soccer shoes that you can have even with your eyes closed.
Indoor soccer shoes are lightweight, flexible, and provide excellent grip on hard surfaces. They are typically made with non-marking rubber outsoles that offer optimal traction without leaving scuff marks on the court.

The Importance of Indoor Soccer Shoes
Lacing up the right indoor shoes levels up your game!!!
How?
They're designed to match the fast and furious indoor court and to give you the ultimate response on a flat, shiny indoor surface.
The soles grip like glue, so you can zigzag between defenders without slipping. Those quick movements and rapid turns?
No problem – your shoes stick like magnets.
The low profile means you stay light on your feet. Just try stopping those rapid 360-degree pivots and sharp twists. Defenders can't keep up!
Thin, sock-like uppers move with your foot. You'll have the silkiest touch to dribble through the tightest spots with ease.
Soft, snug collars prevent blisters, so you can sprint at full speed without hot spots.
Cushiony foam protects your joints and muscles from the rock-hard surface. You'll bounce back fast, match after match.
Ankle rolls? Not with the extra ankle support to keep you stable during those twisty lateral moves.
Dominate your next game with indoor shoes built for the court's intense game of constant starts, stops, and turns.
Grab that winning edge with footwear designed to match the indoor speed of play!
Traction, Grip, and Stability of an Indoor Soccer Shoe
Comfortability and Snug Fit
Protection in Indoor Soccer Shoes
Enhanced Ball Control
Key Features to Look for in Indoor Soccer Shoes
When choosing indoor soccer shoes, you should check their non-marking outsoles, weight flexibility of the shoe and its construction, cushioning, and support, and foremost thing in this is breathability which is directly proportional to comfort.
I have further elaborated on these in the following paragraphs:
Non-Marking Outsoles of Indoor Soccer Shoes
Lightweight and Flexible Construction
Cushioning and Support
Grip and Traction
Breathability of Indoor Soccer Shoes
Types of Indoor Soccer Shoes
There are various types of indoor soccer shoes available, that can be used while playing soccer indoors each shoe caters to specific playing styles and preferences.
Some very common types include:
Flat Sole Indoor Shoes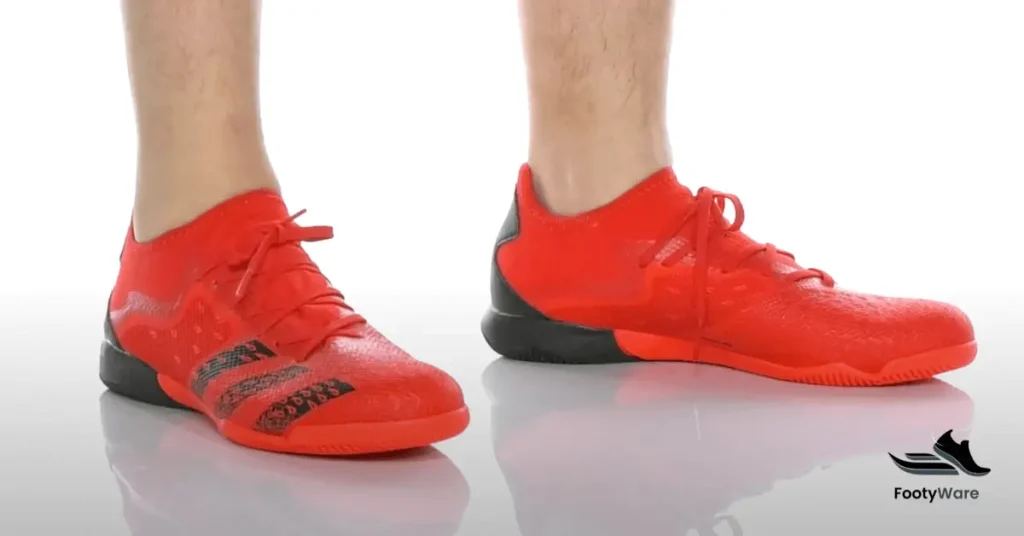 Flat-sole shoes are very commonly used on flat and shiny surfaces and they provide you maximum contact due to their flat sole and offer you the best traction which improves quickness in the game while playing indoor soccer and you'll feel an edge on your opponent. This flat outsole provides you with an excellent grip and is best for players who want to play with agility and aggressiveness.
Turf Indoor Soccer Shoes
Best indoor soccer shoes for turf are very commonly used on turf having small rubber buds underneath these rubber buds provides you with the best traction because it creates friction with the black rubber buds on the turf to make it more comfortable and increases firm grip.
You'll also feel this while playing on artificial turf because they're the most recommended
Court Indoor Soccer Shoes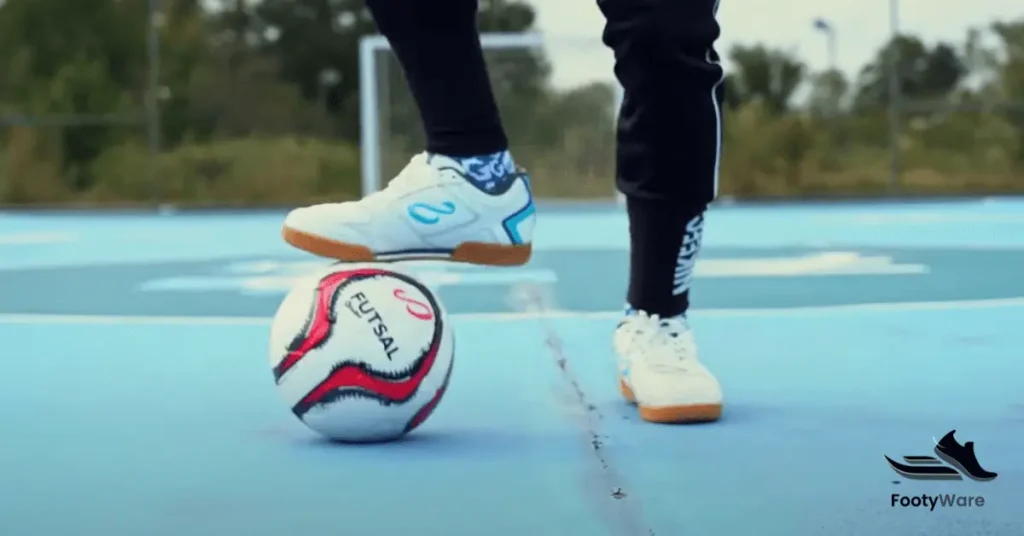 It's like a futsal court which is mostly wooden, shiny, and hard surface. The best futsal shoes outsole should be non-marking rubber for best traction. Mostly this rubber is of light yellow color which gives a firm grip. You can experience this while playing competitive indoor soccer.
Top Brands for Indoor Soccer Shoes
Here are some reputable brands known for their quality indoor soccer shoes:
Nike
Nike's commitment to innovation shines through in details like 3D-printed textured uppers and adaptive traction systems in shoes like the Mercurial Superfly Indoor. While performance is key, Nike also delivers style and self-expression with bold color schemes and prints.
For indoor soccer players seeking every edge in their game, Nike offers a deep selection of innovative shoes built for the quick cuts and pivots of the indoor court. Their indoor soccer shoes cater to different playing styles and preferences with a range of features to support players' needs.
For playmakers who rely on their touch and feel on the ball, Nike shoes like the Tiempo Legend provide a supple leather upper for optimal control. Midfield engines that cover ground rely on lightweight shoes like the Phantom GT with Flyknit uppers. Defenders demand stability for shuffling side to side.
No matter your position or playstyle, Nike has an indoor soccer shoe with features to match. Their React cushioning absorbs hard indoor surface impacts for play after play. Multi-directional traction patterns delivered through premium rubber outsoles grip the court for quick cuts. Snug Flywire cables integrate with laces for lateral lockdown and support.
With technology meeting heritage in shoes like the remanded Tiempo Legend, and cutting-edge innovation in lines like the Phantom GT, Nike gives indoor soccer players options to find the high-performing shoes that best match their game and personality. Nike's indoor shoes deliver the tools serious competitors need to control the indoor pitch.
Adidas
Adidas recognizes that sports like futsal and indoor soccer require specialized gear to excel. The fast pivots, quick twists and turns, and grip needed for indoor court sports demand shoes built for these unique movements.
Staying true to its mission to create the best sports products in the world, Adidas innovates and engineers footwear tailored for the indoor game. Their futsal and indoor soccer shoes feature traction optimized for hard indoor surfaces with multi-directional grip patterns.
Lightweight synthetic or knit uppers allow for agile footwork and control of the ball. An EVA midsole provides cushioning to absorb the impact of a hard indoor court.
Adidas designers use athlete feedback and research to continually push boundaries in crafting shoes that aim to optimal potential on the futsal or indoor soccer court. They integrate tech-like 3D-printed elements and adaptive traction systems seen in models like the Adidas Samba Classics and the Mundial Goal shoes.
Through excelling at sports like futsal and indoor soccer, Adidas believes athletes can gain confidence and life skills transferable off the court. Their footwear reflects a commitment to equipping indoor players with gear tailored to optimize performance, safety, and enjoyment of their sport.
Adidas' "Impossible is Nothing" spirit comes through in fierce indoor court shoes ready to empower athletes to play at their highest level.
Puma
Puma is a leading German athletic brand known for combining performance, style, and sustainability across their sportswear. When it comes to indoor soccer, Puma designs shoes to equip players with footwear tailored for the quick turns and pivots of the indoor game.
Guided by their motto "Forever Better," Puma continually strives to improve their products and processes to be more sustainable and ethical. This mindset comes through in their indoor soccer shoes which are crafted using recycled materials and ethical manufacturing.
Puma emphasizes creating a confident, joyful experience through sport. Their indoor soccer shoes aim to provide traction, support, and responsiveness for players to push their limits on the court with bravery and determination.
Models like the Future Z offer cushioning and a grippy outsole in a lightweight package so players can be confident and comfortable moving in any direction.
While performance is central to Puma's indoor soccer shoes, they add flair through distinctive details like the Formstrip logo and bold prints and colors. Puma aims to outfit indoor players with shoes as expressive as their play.
With veterans like the King shoe and innovative newcomers like the Ultra, Puma gives indoor soccer athletes quality options to find the right shoe to match their game.
Puma's belief in responsible progress and joy through sport shines through in indoor soccer footwear tailored to safely enhance players' skills.
FAQs of What Are Indoor Soccer Shoes?
Conclusion of What Indoor Soccer Shoes Are?
Indoor soccer shoes are important gear in indoor soccer as we need to excel in our speed and set our pace high according to the game. They provide you with the required traction, grip, stability, and comfort, help you perform your best, and reduce the risk of severe injuries.
You should choose an indoor soccer shoe with a proper checklist in mind and the surface on which you'll be using the indoor soccer shoes, playing style, and position, and the most important is your budget. You don't need to try out every single brand I have already written an extensive article on this with the name of the best indoor soccer shoes you can check it out and guide me if something is missing.
Always invest in indoor soccer shoes that're going to elevate your gaming experience and give an advantage to your opponents. In short, it should help drive past defenders effortlessly.