How to Wear Indoor Soccer Shoes Casually?
Before wearing indoor soccer shoes casually you should keep these things in mind indoor soccer shoes are used for indoor soccer means you can play in them on flat, shiny, and wooden surfaces or courts.
Indoor soccer shoes can be used as casual shoes but they're recommended if you can afford to have separate shoes for wearing casually then go for a casual shoe for everyday use.
If you still want to use indoor soccer shoes then I can recommend my experience and my recommendation is the following three shoes.
Wearing indoor soccer shoes casually is as easy as any other normal shoes but different types of indoor soccer shoes cause less trouble. Laceless shoes are as easy to wear as a sock and some are like normal shoes having laces that are also effortless just insert your feet and tie the laces.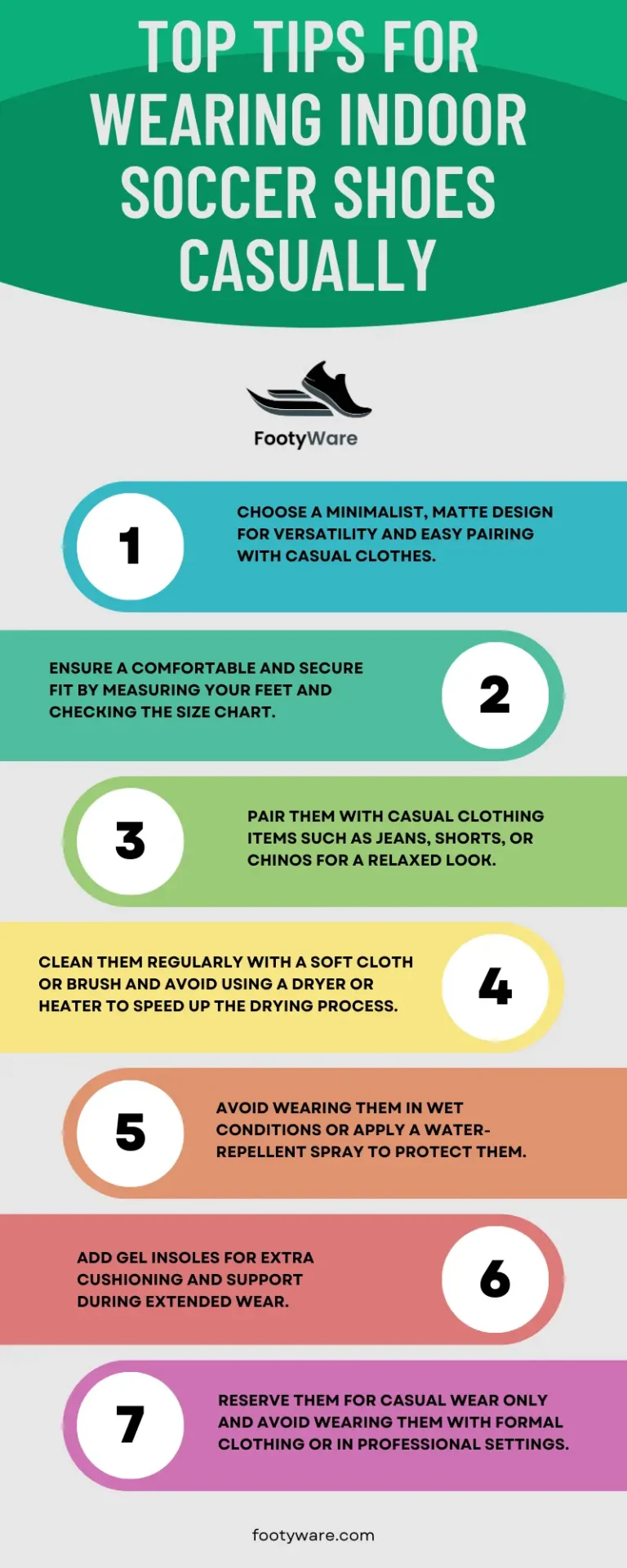 Even after recommending them, I would suggest you not use them for long otherwise you will be more prone to muscle injuries because using them for long and on different surfaces makes your muscles stiff.
If you're not playing regularly and play not as much then you can use them but if you're a rigorous player then you should go for the shoe that's best recommended for a specific surface.
You can wear the top indoor soccer shoes with your jeans even though they're very responsive and those who dance on flat wooden surfaces can also use them because they provide very good control of your body.
One of the delights of the game is that it's being played on different surfaces. It can be played anytime anywhere. Nevertheless, if one wanted the dominant performance out of their footwear and to put a stop to injuries then one should make sure to have a sense of how you have to use indoor soccer shoes.
There are many tips for indoor soccer worn as casual shoes If we are on an indoor court then that means that we are on a futsal court and for this, we have to be very clear about the shoe type we're using.
For a futsal game, you need to have the best futsal shoes as this kind of soccer can be managed with a different set of indoor soccer rules according to the needs of players and the space available That's why futsal can be called a dynamic game and its rules be molded according to the need.
This article carries the following points.
Indoor Soccer Shoes To be Worn Casually
Indoor soccer shoes are used to play soccer indoors in a controlled environment. The indoor soccer surface is mostly shiny, flat, and fine and sometimes it can be a turf to play soccer indoors on.
Indoor soccer shoes for turf and shiny surfaces are different. For flat surfaces shoes have flat and nonmarking outsole to provide you with the ultimate traction while for turf you need an outsole having small rubber studs to provide you with the perfect grip on the turf.
Where Can Indoor Soccer Shoes Be Used? (Types of Surfaces)
Indoor soccer shoes can be used casually, You can use indoor soccer on surfaces that are flat and shiny or on turf but the outsole for both should be different otherwise if you play on turf with a flat outsole indoor soccer you'll lose traction very easily.
Forget about sharp twists and turns if you're playing on turf in a shoe with a flat outsole. If you take a sharp turn you will lose traction a result you can have an awkward fall which can result in pain.
If you're using shoes on other than the recommended surfaces you will end up damaging your muscles as well as your shoe too. Using flat shoes casually damages their outsole and you'll lose their responsiveness on flat surfaces.
Surfaces on which you can use your Shoes
Firm Ground: You should use flexible plastic or long rubber studs. You can't use firm ground shoes casually on any type of surface.
Soft Muddy Ground: Studs should be of steel for firmness on the ground. These are very damaging if you use them casually on every other surface because they are only recommended for soft muddy grounds so better to avoid them on hard surfaces.
Artificial Grass: You can use the same shoes as being used on firm ground. you can use turf shoes on this surface Shoes having small rubber buds underneath would work better and can also be used casually for a walk or a jog.
Artificial Turf: The shoe should have small rubber studs for the best performance. This surface is a little soft because of rubber but you still can use steel studs on these because it will damage your muscles and you'll feel severe pain in your joints.
Further, you cannot use every other shoe casually because they're not made for a specific surface so it's always appreciated to use a specific shoe for a specific surface and you won't regret it.
Hard and Shiny Court: Shoes have flat outsole to increase surface area with the ground. This court is perfect for playing futsal which is a small-sided football you can also call soccer.
Shoes are recommended for a plain and shiny surface and should also have plain soles with non-marking rubber underneath to provide you with firmness and support in competitive games.
Shoes recommended must be used for specific surfaces for the best possible experience. Keep in mind the basics of playing on every kind of surface and buy accordingly. Good luck !!!
Features of Indoor Soccer Shoes (Best Use of Indoor Soccer Shoes)
The main features of indoor soccer shoes and soccer cleats are that they mostly come in snug fit which is the demand of players playing indoors on flats and shiny surfaces. They provide the best traction on a flat surface if their outsole is flat and nonmarking made of gum rubber.
They're best at providing firm support in competitive games where every move matters and you've to be perfect while making every move and giving your 100 percent.
Further, indoor soccer shoes are perfectly padded, very responsive, and flexible which helps you in back-and-forth movements. The shoes ensure protection from injuries.
The best use of indoor soccer shoes is on the recommended surface please avoid playing against the recommended surface otherwise you'll end up injuring yourself. This is especially true for kids who are not mature enough to decide.
The best use of indoor soccer shoes is to use them always on the recommended surface so you can have the optimum life of your indoor soccer shoe and lifetime experience.
Materials Used for Making Indoor Soccer Shoes Used Casually
Indoor soccer shoes are made of several materials like leather, synthetic, suede, gum rubber, knit, mesh, and laces that can be used casually, a combination of all these materials results in indoor soccer shoes.
Material directly impacts the touch on the ball you can feel the comfort if the material is of good quality and material two main parts are its upper and outsole. If the upper and outsole both are of premium quality then you can feel the awesomeness of the shoes.
I will be explaining the features one by one,
Premium quality leather
The premium quality upper is made of kangaroo leather which is quite expensive but it gives the best feel for the skin and takes little or no time to break in. It is shaped like your feet and you will feel it like a sock by playing more in them they get comfortable with time.
It's used in the majority part of shoes and it's lightweight With that it provides the ultimate fit another leather is used called calfskin leather is a little stiff and takes more time to break in but offers good protection.
Calfskin leather uppers aren't as soft as kangaroo leather but are more durable and protective after using them for a while they also shape like your feet and get comfortable.
Durable synthetic
Lightweight stuff used mainly on shoes upper and best for all weather conditions but doesn't shapes according to your feet. They take little time to break in but their major pro is that shoes are primarily lightweight.
The drawback of synthetic is that they are not as durable and not protective or comfortable as much as leather is but synthetic can give the best grip on the ball. You can have the best control of the ball.
Knit mesh
Knit is also called net fit which makes shoes breathable you can use these shoes in humid weather mostly indoors so they are preferred in indoor soccer called futsal because you need to have a flexible shoe that can make you sweat less and gives you comfort.
Knit is the latest and also durable until it's damaged by some sharp thing. Almost every major brand like Nike, Adidas, and Puma is using them in their shoes if the not complete upper is knit but they use it partially and in some cases, even a complete shoe upper is knitted.
They almost feel like a sock and are very lightweight but the con is that they soak up water (you can't use them in even light rain) gets untidy easily and are also not as durable as leather when used on firm ground or turf but they are way more comfortable.
Different types of Studs
Studs are the deciding factor in playing on different surfaces like to play on firm ground you need to have plastic studs that are flexible or long rubber studs. If you're playing on soft muddy ground you should wear shoes having long steel studs so that you may not lose traction.
If you're using shoes on turf you need to have small rubber studs on them to give grip with friction on the rubber pellets on the turf and if you want to play soccer indoors on a shiny wooden surface like a basketball court you need shoes having flat outsole.
Gum Rubber
Gum rubber is mostly used on flat wooden courts like in futsal. It's basically gum rubber which is non-marking and works best on shiny surfaces. The traction they provide is ultimate. You need more responsiveness in aggressive games so it fits well on the criteria.
Gum rubber gives traction and the shoe becomes very responsive because, on a hard surface, you need an outsole that's flat to increase the surface with the surface which ultimately increases grip. The gum rubber sole is mostly recommended for kids because they're the best indoor soccer shoes for kids. They can also use turf shoes having small rubber buds.
Who should wear Indoor Soccer Shoes Casually?
Everyone should wear indoor soccer shoes to play soccer on flat and shiny surfaces. Indoor soccer shoes can be used as casual shoes but they're not recommended for the long-term to be used as a daily go-to shoe.
You can use indoor soccer shoes with your formal but the color of the shoes must be decent, not funky. Some indoor soccer shoes are recommended for multi-activity shoes you can have those shoes.
If you're a pro then I would suggest you use indoor soccer shoes only for playing futsal otherwise if you're a pro and you're using your shoe as a daily go-to shoe they may lose the required traction which will result in affecting your performance on the field.
I have used indoor soccer shoes for multiple activities like badminton, table tennis, volleyball, and basketball but you can experience its optimal performance in futsal on flat, wooden, and shiny surfaces.
Are these Shoes Trustworthy for Walking or Running?
Yes, they're good to go for walking or running but not for long. You should avoid using them for long instead use joggers. Walking and running in indoor soccer shoes may result in muscle stiffness, and joint issues in a result which weaken your joints and muscles and you become more prone to injuries.
It's a very common thing to use shoes for the purpose they're made for and they will give you their best performance otherwise it's up to you but if you want to play for long then you have to manage these accordingly.
Helpful Pointers on Wearing Indoor Soccer Shoes Casually
Indoor soccer shoes can be worn casually by pairing them with casual clothing such as jeans or shorts and a t-shirt or hoodie. Additionally, make sure the shoes are clean and in good condition before wearing them casually.
To wear indoor soccer shoes, it's best to pair them with athletic clothing such as soccer shorts or track pants and a soccer jersey. They can also be worn with casual clothing such as jeans or sweatpants for a more relaxed look.
It's important to make sure that the shoes fit properly and are tied securely to provide proper support and stability during physical activity. Additionally, keep the shoes clean and in good condition to ensure optimum performance.
Advice for New Buyers to Buy Specific Shoes
New buyers should keep the following things in mind for what activity they want to buy a shoe and on what type of surface they would be using those shoes. There are shoes for multiple activities but they aren't best for the specific activity for example using plastic studs shoe on a flat surface.
The most important thing while buying any shoe is to be very accurate about the shoe size because no matter how much a shoe is of top quality, you'll end up having a bad experience if your shoe is not the exact size you need.
After that keep in mind the activity that you'll be performing in the shoes and choose shoes according to the requirements needed for that specific activity.
Final Thoughts on Using Indoor Soccer Shoes Casually
Indoor soccer shoes are mainly used for playing soccer indoors in a controlled environment but for a while you can also use indoor soccer shoes as your secondary shoes to be used casually for your other activities like grocery, walking with your pet, or in your formal environment.
Indoor soccer shoes are used on different surfaces but they're preferred to be used on flat, dusty, shiny, or wooden courts. You should avoid using flat-outsole shoes on turf because you will always be on the loose while playing soccer on turf. After all, they lose traction.
So it's better to use the specific shoe for the specific surface for turf. Use a shoe having small rubber studs, for soft and muddy ground have a shoe with steel studs on its outsole for perfect traction and firmness while on firm ground use a shoe with flexible plastic studs or even medium-sized rubber studs. You can use them on fewer grass surfaces like in dry winters.
Shoes are made of 3 essential things; upper (Leather, suede, or synthetic), outsole (gum rubber, rubber studs, plastic studs, or steel studs), and padding(foam for protection). These are essentials in a soccer shoe.
Everyone can use indoor soccer shoes but they shouldn't be used as a daily go-to shoe. Make your life simpler and choose things that are specifically made for specific activities and you will enjoy them to the fullest.
FAQs about Wearing Indoor Soccer Shoes Casually