Wear Indoor Soccer Shoes on Concrete
Are you tired of switching shoes every time you leave the indoor soccer field? Indoor soccer shoes are known for their comfort and staging, but can they sustain up on other surfaces? Even if you are playing indoor soccer or just looking for a comfortable pair of shoes, you might think about whether indoor soccer shoes are appropriate for concrete. We have got the answers.
Yes, you can use indoor soccer shoes on concrete. It must be flat and should be very fine then you can use indoor soccer shoes on concrete but I won't recommend playing soccer on concrete because of safety reasons.
Top 3 Indoor Soccer Shoes for Concrete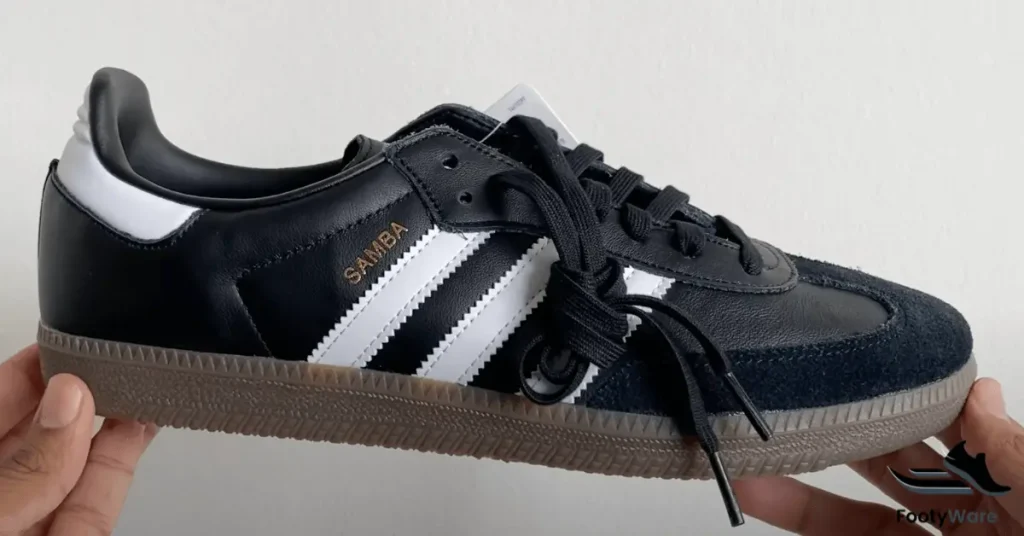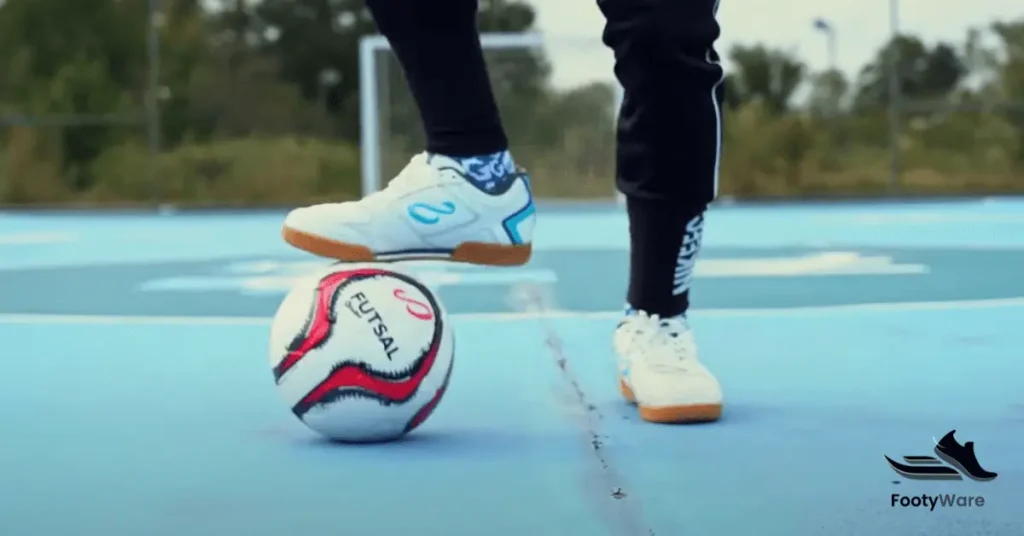 The chances of injuries increase while playing on concrete because I have experienced it while playing while dribbling I was fouled and the friction on the ground tore my skin. So avoid playing on concrete unless and try to play on a flat, shiny wooden surface.
Your muscles become less flexible which causes stiffness in muscles and the chances of muscle injury increase. You will feel stiffness in calf muscles, thighs and often leads to pain in the lower back. These are some major reasons I would suggest you avoid playing soccer on concrete.
While playing on concrete you will also damage your shoe or if not damaged you will decrease the life span of your shoe which is recommended for flat surfaces. To have a rubber outsole for maximum traction or the shoe having small rubber studs that are recommended for turf so better to use the one that's recommended.
We all started playing in our childhood without goalposts we just needed a ball at our feet and the world is full of joy. Kids should keep in mind their size before buying any shoe. I would suggest they never start playing with shoes having plastic or steel studs.
I still remember we just needed a small part of the road having no traffic at all or some side area and with a bunch of friends this was the much-awaited activity of the day but now I know if I have to play for longtime with being injured I will have to take good care of these things.
Difference between Playing on Concrete, Flat and Shiny surfaces, Turf, and Firm ground
There is a lot of difference in playing on different surfaces but playing on a soft ground of natural grass properly maintained has no match. The ultimate feel is playing on natural grass because of fewer chances of injuries, very relaxing for muscles because of the softness of the ground.
Playing soccer indoors on concrete is never recommended for the long term because of the chances of getting injured or weakening your muscles then they'll be vulnerable to injuries like stretchy muscles or sprained ankles or even ACL. The most common is a wound on your knees due to a fall on concrete.
Playing soccer on flat, and shiny surfaces is still safer than playing on concrete and also professionally very much recommended because they are very well maintained. Even in professional futsal is being played players like Falcao and Ricardinho are genius at the game. Ronaldinho also played indoor soccer that's the reason he was very skillful and confident on the ball.
Playing soccer on turf is also very entertaining because of the soft feel of the surface and traction turf shoes having small rubber studs provided on them is just nail-biting. You can change your direction instantly with the ball on your feet and dribble past defenders effortlessly.
Playing on firm ground has a dry or grassless surface which is hard due to dry weather like in Arizona soccer fields due to cold weather. You can use turf shoes on dry firm ground but the ground should be flat so that you cannot lose traction. If you'll lose traction there are chances that you'll end up injuring yourself.
Natural grass has no match in short but other than that there are many options on which we have played in childhood we just needed a place to play. For soft natural grass properly maintained, you'll need shoes having steel studs for the best balance.
Playing Soccer on the Flat and Shiny surface
Small-sided football often called futsal is played mostly on flat, wooden shiny, and dry surfaces. It's an internationally recognized sport being played by famous soccer players like Ronaldinho.
He started futsal before football and when he started playing football he was just unstoppable because for many technical reasons like playing futsal makes you more skillful with perfect ball control in tight spaces and 100-120 meter grounds he was without a doubt one of the confident players.
His skills were matchless I still watch his old videos and they're still very refreshing so this means that playing futsal on flat surfaces increases ball control and makes a player very skillful.
Playing on flat surfaces requires specified shoes having a flat surface with rubber outsole for maximum traction with that you need proper breathability in a shoe and support to your ankles these must play indoors for a long time without any injury.
Proper warm-up and strength and conditioning training should never be missed because they will protect you from injuries.
Playing Soccer on Turf
Turf is getting popular now because of its one-time cost and doesn't need much maintenance like soft ground to give proper water and cutting the grass but turf doesn't need this and turf attracts more due to its bright color. Mostly adults prefer to play indoor soccer on turf in an arena.
Bright colors of turf attract because pictures on turf are very eye-catching and in this virtual world, we need our presence on social media if presence is pleasant then on social media you're appreciated.
Apart from this playing on turf is just flawless you can play while wearing shoes having small studs of rubber that provide proper traction due to its outsole. Playing on turf keeps you clean because playing on firm ground or soft ground, you get dusty or untidy.
Turf is without a doubt a widely used surface that is nearly the same as natural grass and it is also managed easily as it's a one-time investment that doesn't need maintenance for at least 5-7 years depending upon the quality of the turf.
Playing Soccer on Firm Ground
Firm ground is natural ground having grass or grassless that's not maintained properly but left as it is or ground is hard due to cold or lack of water and sunlight like Arizona soccer fields they're mostly dry and grounds are hard until they're maintained properly.
The firm ground has specialized shoes having less rubber or flexible plastic studs that can bear your weight on hard ground and don't feel hard on your feet.
You can use turf shoes on firm ground but the ground should be hard, flat, and dry to feel the traction that's required by turf shoes on grass and grassless ground recommended shoes are still the ones having long rubber studs for competitive games.
Playing Soccer on Soft Natural Grass
Playing soccer on natural grass has no match with either surface whether it's turf, Astroturf, flat and dry surface, or firm ground but still, natural grass is the best because it's soft and you will remain safe from injuries for a long.
Natural surfaces need a lot of maintenance as we see in the premiere league the lush green pitches Professionals take care of those pitches at a high cost which is not possible in every corner so they are accessible to the public or only professionals can play on those pitches.
You can play soccer on soft natural grass with steel studs because they provide you with the traction that's required on soft and grassy ground and you will feel the protection these shoes will give you.
Playing Soccer on Concrete
Playing soccer on concrete for long is not recommended at all but if you want to play football on concrete then play for a while because playing football for long on concrete makes your muscles stiff and you will lose the flexibility of muscles which causes injuries.
You will have issues in your calf muscles, your ankle will lose its strength and you will feel stiffness in your thighs and pain in your lower back. So it's better to avoid playing soccer on concrete for long.
If you still want to play soccer then choose a shoe with having flat rubber outsole of good quality with proper cushioning so that you can protect your feet. Also, choose a shoe that provides you with ultimate support for your ankles.
You need to warm up properly and stretch yourself before starting to play on concrete because, in a cold environment, you often pull your muscles because you haven't warmed up properly and started playing on concrete which is hard, and muscle stiffness in winter needs proper warmup.
As I have said concrete is unforgiving and I haven't said they're not recommended for a long time Chances of injuries increase so it's better to avoid playing on concrete. Indoor soccer shoes that are using their life span will decrease because they're not made of concrete.
Can I use Turf Shoes in Indoor Soccer on Flat Surfaces?
Use turf shoes on flat surfaces like we use to play indoors or flat, shiny, and dry surfaces but they won't give you the traction that's required in a competitive game on flat courts because flat and shiny surface shoes have flat and rubber outsole to provide you with the best traction.
Still, you can use turf shoes on a flat surface and can be used on firm ground, especially in dry winters they can work very well. I also use them for practice daily but whenever I have to play a match I always wear my studs(name of shoe link).
If you are not professional then you can use turf shoes on a flat surface because I know everyone can't buy shoes that are specially used for some specific surface
Why Indoor Soccer Shoes are Recommended for Flat Surfaces?
It's simple because they're made for flat courts or shiny surfaces which are mostly indoors and shoes recommended for them are flat with a rubber outsole to provide the best grip because of the increased touching area of the shoe with the ground.
Flat surfaces are mostly indoor for playing futsal small-sided football but it's fast and needs a lot of control on the ball with confidence and you'll be confident if you'll practice. Simply, this is a matter of hours that you're putting in your practice with dedication not just passing time.
Can you use Indoor Soccer Shoes as Everyday Shoes?
Yes, you can and they are somehow recommended because they have a very flat outsole that doesn't bother you unless they're snug fit. So they're recommended and you can use them under your formals but keep this in mind they're made to play soccer on flat and shiny surfaces those who can afford them shouldn't do this regularly.
Can I use Indoor Soccer Shoes for the Gym?
Yes, indoor soccer shoes can be used in the gym but all indoor soccer shoes cannot be used for the gym because indoor soccer shoes mostly are snug fit which will irritate you while doing pushups or chin-ups but they are good for lighting weights because of their tight fit.
Can you use Turf Shoes as Everyday Shoes?
Yes, you can use turf shoes as your everyday shoes but it depends upon the shoe. Various shoes have various pros and cons. Some shoes will give you comfort while they will not give you the support that's needed all day long.
So choosing a shoe might be an issue but I have used many shoes these three are my recommended ones if you feel to check them out as they're already tested while keeping in mind the comfort they can provide, for how much time you can wear them easily in a formal environment while keeping the design in mind.
Can I Wear Turf shoes to the Gym?
You can hit the gym with turf shoes but seek permission from your gym owner because if he allows then go for it.
The shoe will provide you quality traction on the gym floor if the gym floor is of proper rubber but avoid them if the gym floor is concrete because lifting weight on a hard surface will stiff your muscles which can cause injury.
Wrap it Up!
You can use indoor soccer shoes on concrete but don't make it your habit.
There is a lot of difference in playing soccer between concrete, turf, firm ground, and soft natural grass, so the shoes recommended for them vary too.
An important difference between shoes is their outsole which is the main thing that touches the floor to provide you with traction accordingly.
Wear a sneaker on turf is also not optimal because of its outsole which is unable to give the traction required.
Do ever use shoes having plastic or steel studs on hard ground or concrete?
Never even give it a try because they will damage your ligaments, muscles, and even joints so better avoid them and play in them only on soft ground like natural grass properly maintained. I hope you got it.
FAQs about wearing Indoor Soccer Shoes on Concrete?