[Guide] Indoor Soccer Rental; Rates and Reservations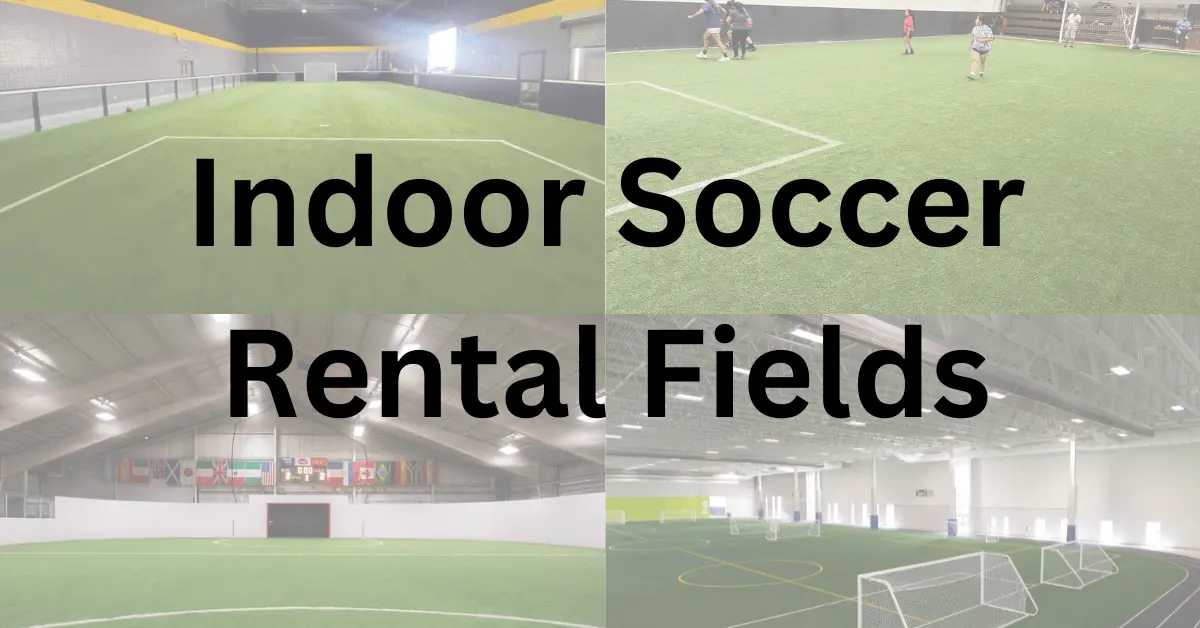 As a professional indoor soccer player, I know firsthand the excitement of indoor soccer – the nonstop action, clever foot skills in tight spaces, and intense physical and mental competition. This thrilling variant of the beautiful game has captured the hearts of over 15 million recreational players across North America.
Its appeal is universal – the joy of connecting passes off walls, striking a perfect top-corner shot, and displaying quick reflexes in compact quarters.
Yet as any player can attest, the foundation of excellence in indoor soccer lies in access to quality facilities. Just as proper equipment and training help elevate your game, so too do premier indoor fields allow players to showcase skills and enjoy friendly competition.
Benefits of an Indoor Soccer Facility
Weather Independence
Year-round availability
Reduced Risk of Injuries
Friendly Environment
Skill Development and Training Opportunities
Ready to play indoor soccer facility
You can book and play with friends, colleagues, and classmates
Best place for healthy activity
The finest indoor soccer arenas provide the ideal environment to experience the fast-paced indoor match. Their specialized turf, dasher boards, and ample space let players perform at their best.
For both recreational and competitive athletes, having venues tailored for indoor soccer is invaluable. As an indoor soccer player myself, I understand the difference such premier facilities make in skill development and pure enjoyment of this thrilling sport.
Usual Features of Indoor Soccer Fields
Soft and best turf for better grip and safety from injuries
Walls on the outside to have real experience of indoor soccer like MASL
Lounge area where you can relax after the game and have some juices
You can also play other games like Basketball court, Volleyball court, Lacrosse, Zumba, Frisbee, and many more
You can also take a shower after your sessions
Some of them have got swimming pools too
Their availability allows newcomers and veterans alike to savor the matches consisting of 4 quarters of 15 minutes each with unlimited substitutions on the fly-through bench doors.
The two teams consist of 5 outfield players and 1 goalkeeper each, competing on a field turf or sports court surface.
In this personalized guide, I will share my insights on indoor soccer rentals, highlighting the advantages, rental process, and various applications of indoor soccer facilities.
Rental Process of Indoor Soccer Facilities
If you're passionate about sports love to play indoor soccer and are facing issues in renting a field then this is for you. I'll be giving you insights into how, when, and which indoor soccer field to rent because I also play indoor soccer in rented fields and manage my local team.
Indoor soccer offers unique benefits and opportunities like weather independence, year-round availability, safety, and skill development. As an Indoor Soccer Player, and the best player of indoor soccer I appreciate the controlled environment of indoor soccer facilities, which allows players to improve their skills and enjoy the game in any weather conditions.
Indoor soccer facilities can be found in many cities and towns, offering a wide range of options for players to choose from. These facilities provide flexible rental options and packages for various requirements, such as casual games with friends or competitive tournaments like professional ones.
Keep this in mind most of these don't allow outdoor cleats to be used on turf because they want to ensure your safety. So better to not bring them for the first time at least and then ask them if they allow it or not.
How to Rent an Indoor Soccer Facility?
As an indoor soccer player, I've rented my fair share of facilities over the years. Based on my experience, here are some tips for researching and booking the ideal indoor soccer rental:
Start your search online and make a list of all potential facilities in your area. Compare locations to find the most convenient option minimizing drive time. Only consider places with multiple fields under one roof to accommodate your full tournament schedule.
Reach out to the facilities still under consideration and inquire about field dimensions. For a competitive tournament, prioritize rentals with a full-sized indoor field that closely replicates outdoor soccer. This enables high-level play.
Don't forget to factor in the playing surface – look for indoor fields with artificial turf or smooth sports court flooring that facilitates fast play with true bounces. Avoid rentals with rough or uneven surfaces.
Check online reviews and testimonials to get authentic feedback on the rental experience from past users. This ensures you choose a facility committed to customer satisfaction.
Once you've selected the perfect place, call to discuss reservation policies. I recommend booking 6 months in advance for peak tournament seasons like winter. Ask about their payment process – some require just a deposit upfront.
Inquire about any additional rental services like referee provisions, scoreboard operators, athletic trainers, or equipment rentals for teams that traveled to your event. Selecting a full-service facility simplifies tournament planning.
Confirm what forms of payment are accepted and arrange invoices ahead of time. Reach out a week before your rental date to review event details and finalize schedules. With the right indoor soccer facility secured well in advance, you'll be set to host an amazing tournament!
Approximate and Affordable Price of Rent
These are just approximate prices so you have to keep this in mind.
| Field Size and Time | Rental Price |
| --- | --- |
| Larger Field (60×40) 90 min | $135-$150 |
| Larger Field (60×40) 60 min | $95-$115 |
| Small Field (50×30) 90 min | $115-$130 |
| Small Field (50×30) 60 min | $80-$100 |
At least 50% should be paid at the time of reservation. This isn't refundable and can't be transferred to another time. So to avoid any inconvenience you should be very clear to come according to the timings because it won't be changed.
Renting for more than 2 hours will give you a special discount so for that you can also contact us by email at [email protected]. Further, if you want to want any space you can also mail us for any further clarity and We would be happy to help you out.
There are multiple sizes of the field for rental purposes. You can rent for a team and the other will pay their own Plus you can also rent as a player but discuss everything on a call with the respective field owner.
Tips for Applications of Indoor Soccer Rentals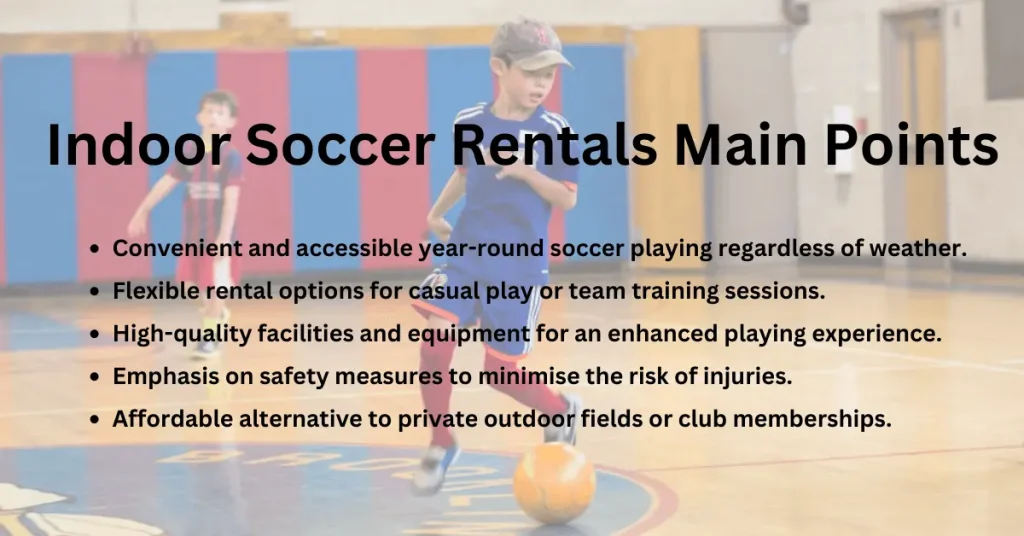 Tips for a Successful Indoor Soccer Rental Experience To make the most of your indoor soccer rental, gather a team of enthusiastic players, ensure proper equipment and attire, familiarize yourself with the facility's rules and regulations, and arrive well in advance for warm-up and preparation.
It's better to bring your ball because the quality of the ball isn't that good so you should bring your own to enjoy up to the maximum.
Conducting Competitive Indoor Soccer Tournaments

Indoor soccer rentals provide the ideal facilities to host competitive tournaments and events. Running a top-notch indoor soccer tournament delivers great opportunities for teams and players to test themselves against quality opposition in a fun, engaging environment.
Utilizing an indoor soccer rental complex allows you to hold a tournament regardless of weather or field conditions. Most facilities will have multiple fields under one roof along with spectators seating for an exciting tournament atmosphere. They provide all the necessary equipment like balls, goals, scoreboards, and referees to ensure the smooth operation of games.
Well-run indoor soccer tournaments give teams exposure to higher levels of competition, which accelerates development and growth. The indoor game places a premium on technical skills and quick thinking in tight spaces. Facing high-caliber opponents in this setting forces teams to elevate every aspect of their play.
For individual players, participating in premier indoor tournaments allows valuable opportunities to showcase skills for college and professional scouts in attendance. The indoor platform lets their talents shine and make it funneled to the professional level.
The condensed tournament schedule over a weekend or a few weeknights promotes team bonding and friendships. Teams must come together and build tournament-long strategies. This advanced preparation and rotation of squad players also improves coaching ability.
Whether hosting a prestigious club tournament or local indoor soccer leagues, indoor soccer rentals provide the ingredients for an unforgettable competitive experience. Taking advantage of these state-of-the-art indoor facilities enables you to provide teams with high-level competition in exciting indoor surroundings.
Concluding Indoor Soccer Rentals
Indoor soccer rentals provide a convenient and exciting way to enjoy the game of soccer regardless of weather or season. As a professional footballer, I highly recommend exploring indoor soccer rentals to experience the thrill of the sport in a new way.
Indoor soccer facilities allow you to rent a field or court by the hour for your team or just a group of friends. The artificial turf or hard court surface is ideal for the fast-paced indoor version of the game. Full-sized indoor fields replicate outdoor soccer but in a contained arena free from weather disruptions. Some facilities also offer small-sided futsal courts for 5v5 play with hockey-sized goals.
When you rent an indoor field, all the necessary equipment like balls, goals, and corner flags are provided. Many places even include referee services in your rental. This allows you to just show up and focus on the fun of the game. Indoor soccer rentals are perfect for team practices, scrimmages, birthday parties, corporate team building, or casual matches.
Offering year-round availability and guaranteeing ideal conditions, indoor soccer rentals are a great way for players of all levels to enjoy the beautiful game. If you want a new way to experience the fast pace and intensity of soccer, be sure to check out indoor field and court rentals in your area today!
FAQs of Indoor Soccer Rentals Fields