11-Year-Old Fifi Garcia Having a Stellar Soccer Summer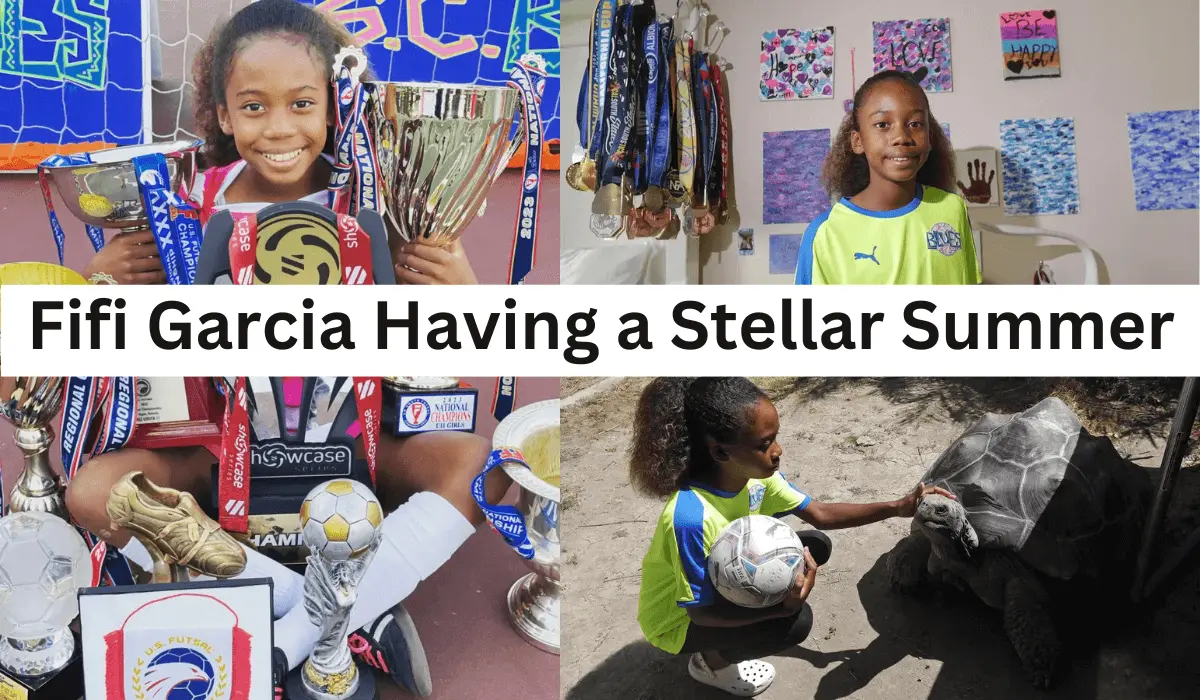 Huntington Beach's Fifi Garcia, just 11 years old, is taking the youth sports world by storm this summer. The multi-talented athlete is racking up championships and showcasing her prodigious skills across several sports.
Fifi plays club soccer with the prestigious SoCal Blues, where her coach Rob Rennie compares her talents to US Women's National Team stars. She led her Blues 2012 Lime squad to victory in the famous Surf Cup tournament in San Diego, netting a beautiful goal in the championship game.
Her impressive performance avenged a difficult State Cup loss earlier this year when Fifi played through pain from a broken toe. That setback only seemed to fuel her motivation to dominate the Surf Cup. According to Rennie, Fifi is mature beyond her years in understanding tactics and techniques.
"She has a lot of similar characteristics of these professional players, potentially, if she can keep her strength," Rennie said. "She's a gifted athlete, and on top of that, she's genius … in the way that she understands the game. There are certain players you don't have to coach. You want to let them do their own thing because they know the answers and improvise. She's one of those players."
In addition to excellence on the pitch, Fifi starred in futsal, an indoor version of soccer played on a hard court surface. She helped her Blues futsal team capture back-to-back national titles in the 11U division this summer.
What is Futsal?
For those unfamiliar, futsal is a 5-on-5 indoor soccer game played on a hard court surface with hockey-sized goals. It originated in South America in the 1930s and has grown into an internationally played variant of soccer.
Futsal is played with a smaller, heavier ball that emphasizes improvisation, creativity, and technical ball control. The fast-paced game in tight spaces helps develop skills that transfer to the full-sized outdoor game. Matches consist of two 20-minute halves with running time, unlike outdoor soccer.
Fifi's futsal success demonstrates her versatility and adaptability as an athlete. The indoor game improves her touch, footwork, and decision-making – abilities crucial for any soccer player.
The first futsal crown came at the U.S. Youth Futsal National Championships in Kansas in July. The following week, the squad seized another gold medal at the U.S. Futsal National Championship in Las Vegas.
"It was really special, especially to be able to do it with my teammates," Fifi said. "They're the same girls that are on my soccer team, and they're on my futsal team. It's like we have even more of a connection."
Beyond soccer and futsal, Fifi also showcased her speed and athleticism in track and field. She claimed a 400-meter championship at the AAU West Coast Nationals in Reno, blazing through the one-lap race in 1:05.30 to beat older girls.
On the softball diamond, Fifi helped her Corona Angels team reach the final four of the Alliance Fastpitch National Championships as a second baseman and center fielder. Her squad finished third in the tournament, adding to Fifi's haul of national accolades.
This whirlwind summer of championships occurred before Fifi even started 6th grade at Saints Simon & Jude Catholic School in Huntington Beach.
"It was four or five weeks of just championships, championships, championships," said Fifi's dad, Hodari Garcia, a former multi-sport athlete himself. "And winning almost everything."
Why Quality Futsal Shoes Are Important
For futsal players looking to elevate their game, having the right footwear is crucial. Futsal-specific shoes differ from typical soccer cleats in some important ways.
The sole of the best shoes for indoor soccer and the best futsal shoes is flatter and gripper, allowing quick cuts, pivots, and shuffles on the hard court surface. The uppers are made from flexible, lightweight materials to enhance the feel of the ball. Finally, the toe box is slightly more rounded and snug for better control.
Some of the top futsal shoe models include the Adidas Mundial Goal, Puma Future Z 6.1, and Nike Premier Accelerator. Investing in a quality futsal shoe provides the traction, touch, and quickness needed for this fast-paced indoor game. Proper footwear gives players like Fifi an edge over the competition.
Multi-Sport Excellence
Fifi's mother, Janice, also competed in high school sports locally. The family remains uncertain whether Fifi will attend their neighborhood public school, Edison High, or a private school in the competitive Trinity League.
Wherever she goes, Fifi plans to play multiple sports for now. She excels at volleyball and basketball, often competing against older girls on her school teams.
"She wants to play multiple sports in high school," Hodari Garcia said. "I don't know if she'll do it in college. It would be a tragedy if she can run a 1:05 as an 11-year-old, Maybe by the time she's at Edison or Mater Dei she can run a 53 or something … and you don't run. And you're so good at softball, but you don't play it. It's tough. It's going to be up to her, what she wants to do."
Of all her talents, Fifi's soccer skills remain her most impressive and passion-driven. Scoey Peters, the head coach of the Long Beach Sprinters youth track program, has worked with Fifi for years. He raves about her ultra-competitive drive.
"When I met her, she was already an aggressively competitive child," Peters said. "Fifi is always going to compete at the top. That's kind of her DNA, her mindset. She's always going to be just a tough competitor. That's just her. As a coach, that's something you get as a benefit, that she's going to be a competitor."
That fierce intensity, along with her athletic gifts, suggests a bright future in any sport she chooses. But those close to Fifi insist she displays maturity and perspective as well.
"There're so many things that can happen, and it's going to come down to her passion, but she is a gifted player," said coach Rennie.
Her parents want Fifi to enjoy her youth sports experiences while keeping long-term goals in perspective. Juggling different sports and schoolwork is already a challenge for her.
"It's really difficult," Fifi said. "I have to fit in softball during the week, usually by just practicing at home … It's a tight schedule."
Still, the support system around her focuses on fostering well-rounded personal growth. Fifi's impressive Instagram account with over 4,000 followers also drew some media attention this summer. But she takes the hype in stride.
"Especially at this age, her family wants her to enjoy as much as she can for as long as she can," Rennie said.
With her relentless competitiveness, creativity beyond her years, and incredible versatility, Fifi's future remains blindingly bright. She has the raw ability to compete at the highest levels of soccer or any other sport she chooses.
For now, Fifi continues her multi-sport dominance against older girls her age. Those who know Fifi best agree she is a truly special, once-in-a-generation athlete whose career will be thrilling to follow wherever it leads.